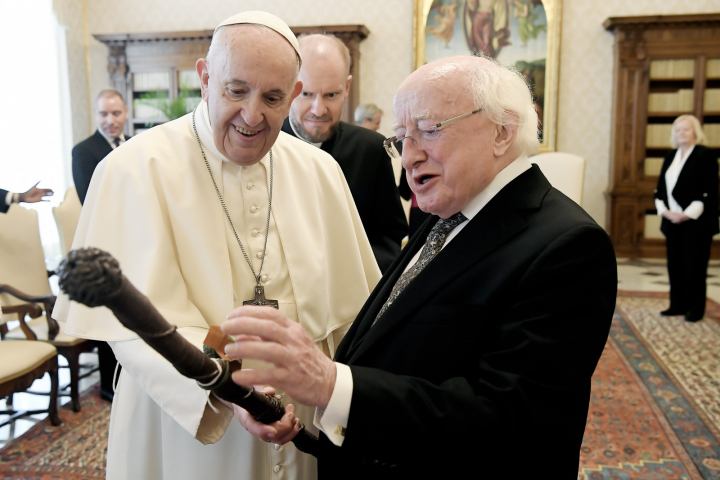 President Higgins met Pope Francis in a private audience in the Vatican.
During the cordial talks various matters of mutual interest were discussed, such as migration and the protection of the environment, with particular attention to the prospects of the 26th United Nations Conference on Climate Change (COP26), to take place in Glasgow. There was also a joint reflection on the consequences of the coronavirus pandemic and the future of Europe, focusing finally on the theme of the strengthening of the peace process in the country.
This was the fourth meeting between the two leaders. Click the Photos or Video tab for more information.
The President presented His Holiness with a special 'Fisherman's Stick' made on Inis Mór, the largest of the Aran Islands, one of the most Westerly points of Europe.
The stick, made by artist Lochlainn Cullen is made of blackthorn wood, grown and crafted on the island, and adorned with cotton knots. The knots are arranged in a spiral called 'St. Mary's Hitch', consisting of three strands which are interwoven into one, representing the divine trinity.
When the President met Pope Francis in May 2017, he presented the Pope with a Climate Bell. The bell, made by the Irish artist Vivienne Roche, sounds a symbolic warning about the threats of climate change. Both the pope and Higgins have repeatedly expressed their urgent concern about this issue.
Related events: