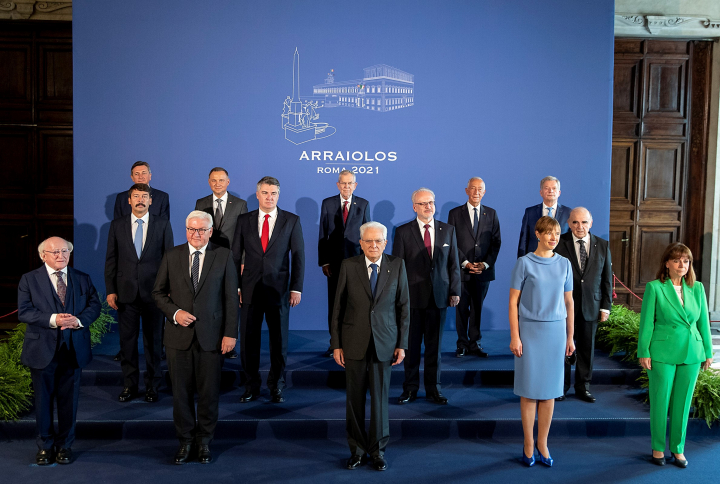 At the invitation of the President of the Italian Republic, H.E. Sergio Mattarella, President Higgins participated in a meeting of the 'Arraiolos Group' of EU Presidents. The group is composed of 15 non-executive Presidents who meet annually to discuss contemporary issues.
The meeting took place in the Quirinal Palace in Rome on Wednesday 15 September. The 14 Heads of State reflected on European cooperation in the face of global challenges, including the economic changes needed post-Covid and the Future of Europe discussion underway.
The Arraiolos Group is an informal meeting of Presidents of European Union member states. Meeting once a year, the Arraiolos Group, named after the Portuguese town where the first meeting took place in 2003, provides a political forum for the Presidents of parliamentary republics in the EU to consider responses to the challenges facing their societies, and to promote the principles of multilateralism.
Later in the week, President Higgins will discuss some of the challenges debated at the Arraiolos Group meeting with Pope Francis, whose statements on issues such as development, migration and climate change President Higgins has often referred to as inspirational.
Click here to watch, read, or listen to, the President's statement after the meeting.
Related events: