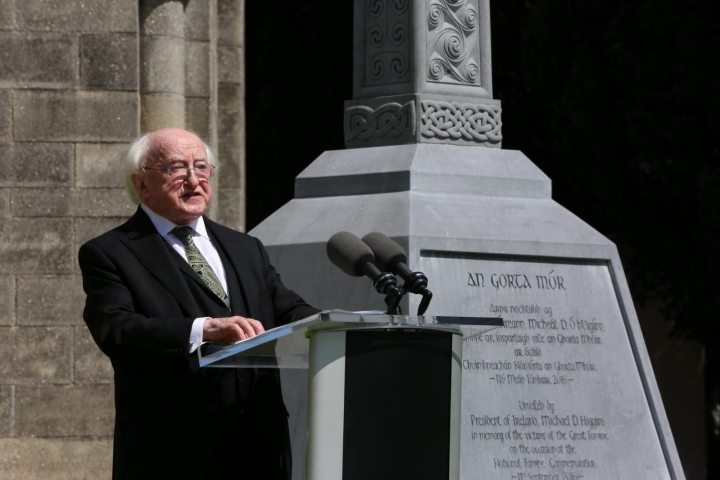 As in previous years, President Higgins led the National Famine Commemoration Ceremony.
Click on the Speech tab to read the President's keynote address, or listen to the speech via the Video or Audio tabs.
The annual national commemoration revolves between the four provinces of Ireland and has been held at historic sites such as Glasnevin Cemetery and the Famine Warhouse 1848 in Ballingarry, Co. Tipperary. This year's event will take place at Glasnevin.
President Higgins, who has made the ethical commemoration of key events in our history, such as the Great Famine, a core tenet of his Presidency, spoke about the Famine as a defining moment in Irish history, that has shaped not only our history but also our relationship with land, migration and politics. The President also linked Ireland's harrowing experience with the Famine to our contemporary fight against hunger, poverty and forced migration.
The President drew comparisons between the Famine and ongoing conflicts, saying that "no people are better thus equipped to understand the impact of the term 'eviction' from this period than the Irish people and their friends in the United States or elsewhere, who are aware of the Irish experience. Irish people can understand so well the events that tragically are unfolding elsewhere, as I speak, in the Middle East."
Some of the President's key speeches on the Gorta Mór include:
Related events: