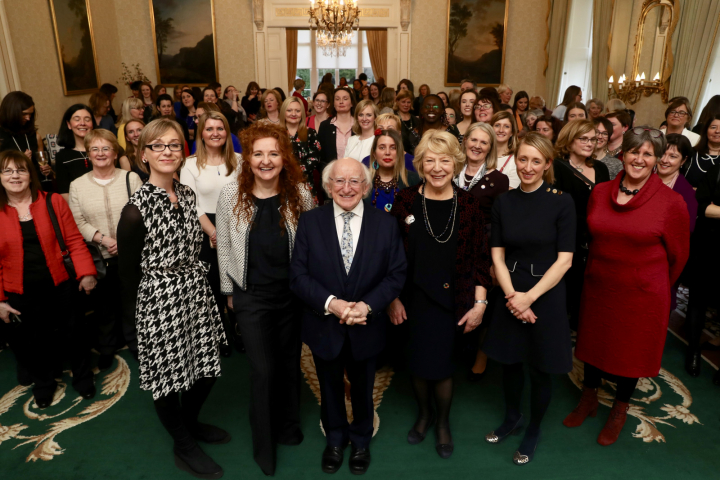 Each year President Higgins strives to host an event to mark 8 March, International Women's Day:
· In 2012, the President marked the day by opening the new offices of the National Women's Council.
· In 2013, President Higgins hosted an event for Women Leaders.
· In 2015, President Higgins highlighted the Day by hosting an event on Women and Sport.
· In 2016, the President built on his role as a HeForShe Champion World Leader to call on organisations with a significant male membership to help eradicate domestic violence.
· In 2017, the theme of the President's International Women's Day event was domestic and sexual violence.
· In 2018, the President used International Women's Day to mark the centenary of women's suffrage.
This year, the President used the Day to celebrate and highlight the work of women in the sciences.
The theme for International Women's Day 2019 is #BalanceforBetter; a call to action for driving gender balance across the world. The reception at Áras an Uachtaráin aims to apply this motto to the realm of academia, highlighting the benefit of diversity in academic work and paying tribute to the work of Ireland's female researchers.
Internationally and in Ireland, women are largely underrepresented in science and academia, with only 30% of scientific researchers worldwide being women. Research suggest that various practices in academia are causing this gender inequality, including the organisation of academia and academic networking, the way academic excellence is constructed, and the lack of informal support systems for women.
The 8 March event was aimed at addressing this latter point, by providing a place for women researchers to meet and share experiences.
President and Sabina Higgins invited some 150 female researchers to Áras an Uachtaráin, in celebration of the value of science and the work of female scientists, whether they are young researchers at the beginning of their academic careers, or internationally renowned experts.
Since his inauguration in 2011, the President has spoken repeatedly about the importance of using scientific insights to address the great challenges facing humanity and our fragile planet and to ensure the benefits of this research are shared equitably among and within nations.
See for instance: