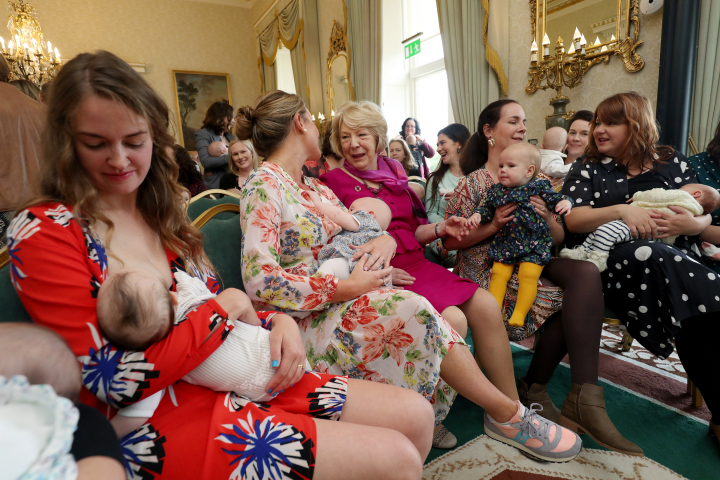 Sabina Higgins hosted the annual "Latching On" morning at Áras an Uachtaráin, as part of National Breastfeeding Week.
Sabina welcomed up to 100 breastfeeding mothers and their babies. For some mothers attending this event, breastfeeding will be a new experience, and the event can help them find support from other mothers.
Representatives from Friends of Breasting, Cuidiú, La Leche League of Ireland and The Nursing and Midwifery Board of Ireland were among those in attendance.
The UN World Health organsiation (WHO) has stated that Breastfeeding is the normal way of providing young infants with the nutrients they need for healthy growth and development. Virtually all mothers can breastfeed, provided they have accurate information, and the support of their family, the health care system and society at large. Colostrum, the yellowish, sticky breast milk produced at the end of pregnancy, is recommended by WHO as the perfect food for the newborn, and feeding should be initiated within the first hour after birth. Exclusive breastfeeding is recommended up to 6 months of age, with continued breastfeeding along with appropriate complementary foods up to two years of age or beyond.
The event also aimed to raise awareness of the link between breastfeeding and the 17 Sustainable Development Goals, endorsed by almost all the world leaders in 2015. Breastfeeding is a vital key towards the achievement of the goals of ending poverty protecting the planet, and ensuring security and inclusive prosperity for all the world's citizens.
Related events: