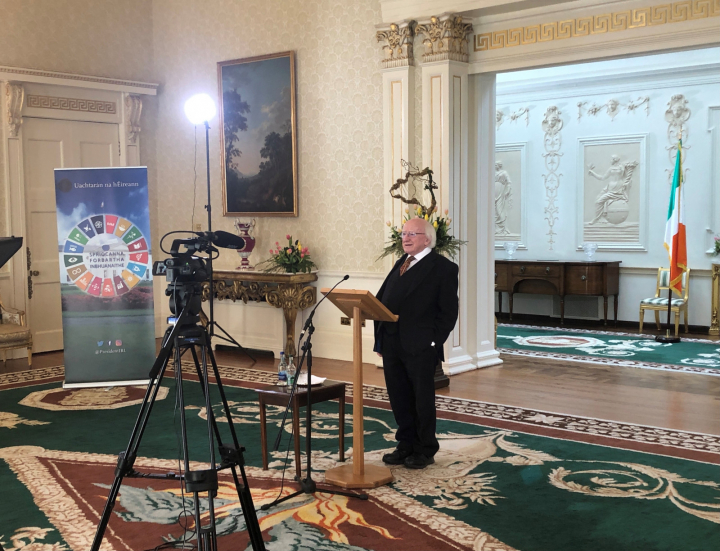 President Higgins launched Seachtain na Gaeilge 2021 on the 1st of March, with a speech in which the President invited every Irish person to 'give the language a second chance'.
Click on the Audio, Speech or Video tabs for more information.
Seachtain na Gaeilge (Irish Language Week) is an international Irish language festival and one of the biggest celebrations of our native language and culture, that takes place each year in Ireland and in many other countries.
President Higgins has used his term in office to promote the Irish language. Throughout his career, President Higgins has championed the Irish language and he was one of the driving forces behind the establishment of Teilifís na Gaeilge, now TG4.
In his first term in office, President Higgins said that he aimed for his Presidency to be one of Ideas, and one sensitive to language, concepts and unspoken assumptions. Since then, he has on many occasions highlighted the central place of the Irish language in our history and culture, consistently encouraging people to speak the language, even if they only have the 'cúpla focail.'
In his 2016 'Ghaeilge sa Ghairdín' speech, the President highlighted that the leaders of the 1916 Rising were inspired by a vision of an independent Ireland whose language was spoken and written, and that five of the seven who signed the Proclamation were active in the Irish Language League.
In his address to the 2016 Conradh na Gaeilge Ard Fheis, President Higgins recognised the difficulties involved in the promotion of Irish, but highlighted the progress being made and the growth of interest in the language.
In his speech at the celebrations of TG4's 20th anniversary, the President paid tribute to the television station as a means to foster links between the dispersed communities that use Irish.
Related events: