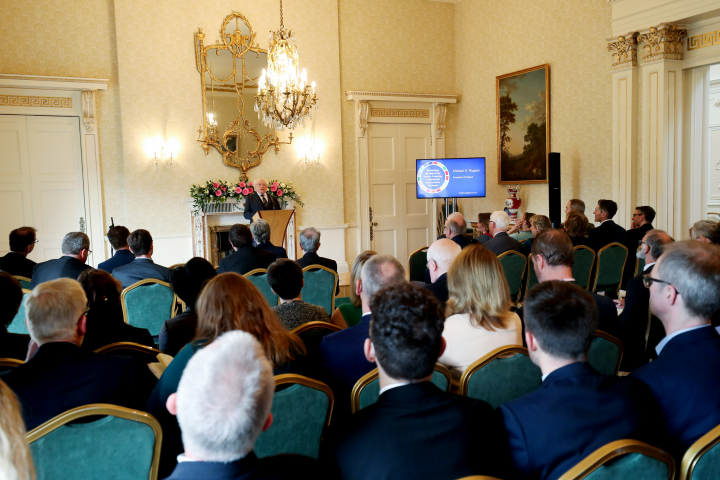 President Higgins hosted a seminar on 'Rethinking the Role of the State in fostering a Sustainable and Inclusive Economy', at Áras an Uachtaráin.
The seminar was the first of a series of initiatives that the President will host during his second term. He is seeking to encourage spaces and actions that will facilitate the necessary steps towards new models of re-defined development, balancing economics, ecology, ethics and social cohesion.
Since his inauguration in 2011, President Higgins has sought to promote greater public debate about societal change, engaging with a number of significant topics. One of those key themes has been the issue of economic policy, and policy-making. In many of his speeches, President Higgins has spoken of the importance of promoting greater understanding of, and public engagement with, economic policy, of decision-making processes, and of the policies that might replace those that have resulted in growing inequality and threats to the planet.
Chaired by Dr. Mary Murphy of Maynooth University, the 12 November seminar heard contributions from President Michael D. Higgins, Professor Mariana Mazzucato and Professor Ian Gough.
The seminar was intended as a founding discussion on how to promote the new "ecological-social paradigm" of which the President has been speaking, with a view to reversing social and environmental damage, reducing inequality and lessening the risks to social cohesion.
The President has argued that we are responding to a set of inter-connected crises, requiring a sharing of intellectual work and consciousness.
In his work, particularly in 'Heat, Greed and Human Need', Prof. Gough has outlined how an alternative paradigm, rooted in the concept of human need, can champion gender equality, and a fairer distribution of income, wealth and resources.
Prof. Mazzucato will discuss why economic theory needs to rethink the role of policy, away from only fixing market failures, towards actively co-creating and shaping markets to deliver outcomes for the public good. In doing this she will interrogate notions of public value, public purpose, and a broader notion of the public good as a universal objective, not just a correction.
Click on the Audio, Speech and Photos tabs above for more information.
Related events: