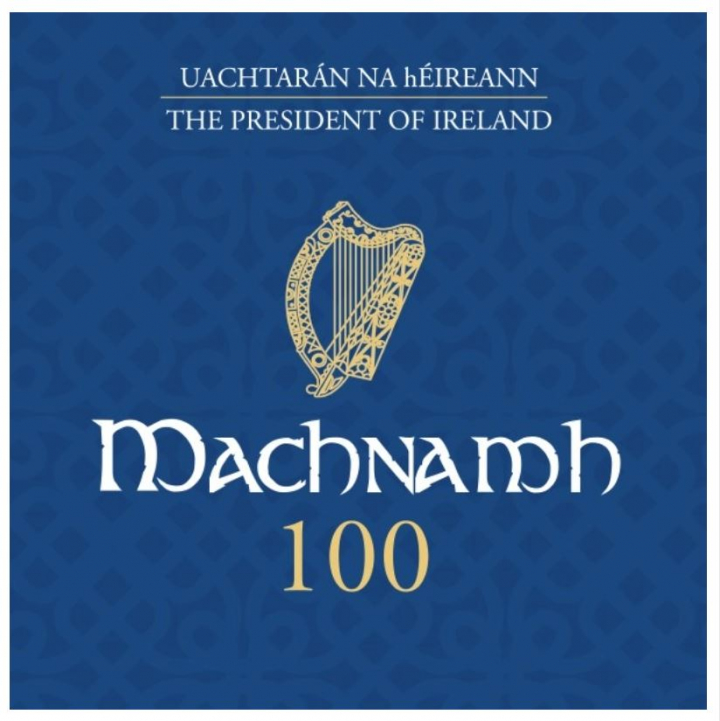 The final in the series of the President's Machnamh 100 seminars, "Memory, History and Imagination", took place in November 2022.
The Machnamh 100 series takes its name from the Irish word Machnamh, an ancient concept encompassing reflection, contemplation, meditation and thought.
The seminars, which began in December 2020, have each been moderated at Áras an Uachtaráin by Dr John Bowman who opened the first seminar and invited scholars to respond. Over the course of the six seminars, President Higgins and 27 leading scholars have shared their insights on the context and events of the formative period of a century ago and made a reflection on the nature of the act of commemoration itself.
The final seminar, 'Memory, History and Imagination', featured a principal address by author and historian; Professor Declan Kiberd of the University of Notre Dame and University College Dublin.
This was followed by responses from cultural theorist and film producer Lelia Doolan; Professor Angela Bourke of University College Dublin; and BBC journalist and author, Fergal Keane. Across their contributions, the participants consider the intersections between history, trauma and the cultural memory which has developed of the period.
The seminar also included a keynote address by President Higgins entitled '1922 – The Most Significant Year?'.
A hardback book, 'Machnamh 100 – Centenary Reflections, Volume 1', containing the speeches and discussions from the first three Machnamh seminars, was published in November 2021 and is available in public libraries and in universities across the country, as well as via Scoilnet, the Department of Education's official portal for Irish education and to students throughout the network of 749 post primary schools. It is also available free of charge as an ebook here. Volume 2, containing the final three seminars, will be available early in 2023.
In a statement, President Higgins said:
"Machnamh VI brings to a close six seminars which I have organised over the past two years in Áras an Uachtaráin to reflect on the seminal events, and their social basis too, that would result in the birth of the Irish Republic.

Across the six seminars, our participants have sought to tackle with authenticity the complexity of the period, to participate in the investigation of motives, teasing out social contexts, including that perhaps insufficiently acknowledged 'from below'. Our purpose has not been the assertion of definitive conclusions, but rather to leave matters open. Our efforts are aimed at understanding – understanding in relation to the past, which I hope may assist us in addressing our present and future challenges on this our shared island.

The 'Decade of Commemorations' and our six Machnamh 100 seminars have sought to focus attention not only on the political and constitutional context of the events of 1912–1923, but also on the wider experiences of war, conflict, the Great Flu, and the horrific political violence associated with land security and land hunger within Irish society, and not only that violence which was being imitated or reciprocated, but new forms of violence, including gendered violence.

This broadening of scholarly perspectives beyond constitutional and military history has greatly enhanced our understanding of how conflict and war is experienced and registered as a cultural, social and emotional phenomenon within Ireland's recent past.

I hope that viewers will find Machnamh VI, our final seminar, thought-provoking, perhaps even challenging and, above all, a reminder that the work which we have undertaken over these six seminars represents an invitation to history which, when its complexity and fullness is respected, can make such a valuable contribution to the vital task that is ethical commemoration.

As we look to the future, I believe it is one in which we can muster hope for the citizens of this country. The search for, and identification of, a common ground built on a shared humanity is our best hope.

A reflection has been made, now the work is handed over. All are welcome to come forward. The process of ethical recall, with which we have been engaged through these six seminars of Machnamh 100 over the past two years, the reflections we have made, as well as other commemorative events, can aid us all in this, our shared journey together, towards an emancipatory future, one that is marked by inclusivity, diversity, possibility, and a sharing of memory in conditions of peace – in a diverse Republic of which we can all be proud, be always open to revise, make better."