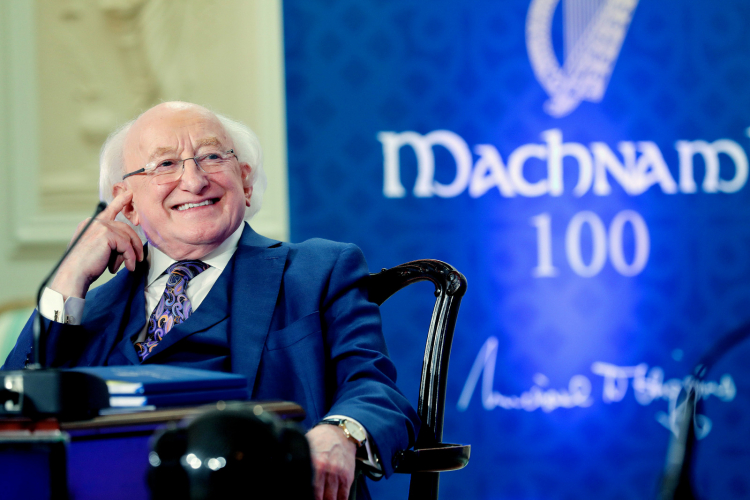 President Higgins launches second part of "Machnamh 100" series
Published: Fri 24th Sep, 2021 | 17:14
"Machnamh 100" seeks to recall, critique and reflect on the context and events of the War of Independence, the Civil War and Partition. The series also provides an opportunity to consider the impact of what transpired in this period on the nature of the jurisdictions and societies that subsequently emerged.
The President is adopting a thematic approach to each of the seminars, focusing on those areas that have received perhaps insufficient attention and others to which a fresh or deeper return may help in developing a clearer understanding of the period.
The series of seminars are divided into two parts:
Part One:
The inaugural seminar took place in December 2020. A second, on the theme of "Empire: Instincts, Interests, Power and Resistance" took place in February 2021, and the third in May focused on Land, Gender, and Class.
The intention is that these deliberations will be captured in a printed publication to be published in parallel with the delivery of the fourth seminar which will be broadcast on the RTÉ Player around 25 November.
Part Two:
Participants will address the fourth seminar, which will be convened under the heading 'Settlements, Schisms and Civil Strife'. This will involve a consideration of the road to the Treaty and its long-term implications. It will also examine Ireland in the summer of 1921 and what the Truce meant, what prospects it opened, as well as the international aspect of the halt in hostilities
Principal Speaker:
Prof. Diarmuid Ferriter, UCD
Respondents:
President Michael D. Higgins
Professor Mary E. Daly, Royal Irish Academy
Professor Margaret Kelleher, UCD
Dr. Daithí Ó Corráin, DCU
Professor Fearghal McGarry, QUB
Related: