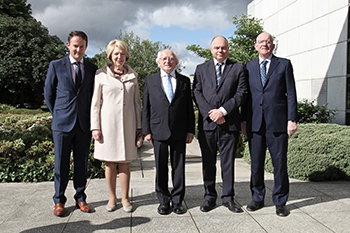 President Michael D. Higgins opened the first ever Irish Humanitarian Summit in Dublin on 2 July 2015.
The event brought together different stakeholders involved in humanitarian action, to examine ways to improve the response to the increasing number of complex emergencies around the world.
The President spoke about the growing demand for humanitarian support worldwide, with over 125 million people in need of urgent assistance. He called for greater attention to the dignity and rights of people and communities affected by humanitarian crises.
The recommendations which emerged from the Irish Humanitarian Summit subsequently informed Ireland's contribution to the World Humanitarian Summit, held in Istanbul in May 2016.