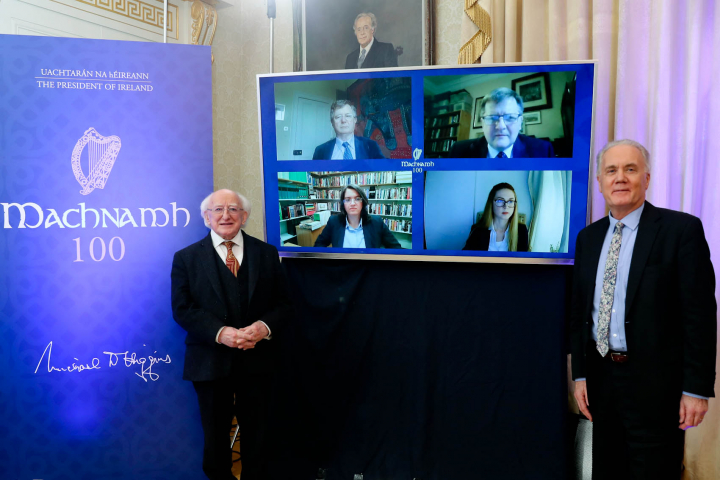 The second seminar in the Machnamh 100 series took place on 25 February.
Click on the Audio, Video or Speech tabs for more information.
President Higgins hosted the second in the 'Machnamh 100' series of reflections. The second seminar included consideration of European Empires following the First World War, the British Empire in particular, and imperial attitudes and responses to occurrences in Ireland. It also included reflections on examples of resistance to Empire in Ireland and resistance to nationalism.
In the seminar, President Higgins focused on the relationship between culture and empire, and how British cultural hegemony at the time attempted to shape and influence general cultural values in Ireland.
The lead reflection was given by Professor John Horne of Trinity College Dublin, and the respondents included Dr Marie Coleman, Queen's University Belfast, Dr Niamh Gallagher, St. Catharine's College Cambridge, Eunan O'Halpin, Trinity College Dublin, and Professor Alvin Jackson, University of Edinburgh.
Machnamh 100 is an initiative of President Higgins that builds on his extensive work to date during Ireland's Decade of Commemorations, in which the President examined and explored the context and enduring relevance of seminal events such as the Lockout of 1913, the First World War, The Easter Rising, the Flu Pandemic, the election of 1918 and the first Dáil.
Machnamh 100 is being supported by the Government and by RTÉ.
Click here to view the running order of the 25 February seminar.
Click here for more information about the first seminar in the series.
To read some of the President's key speeches on 'ethical remembrance' of our history, click here.