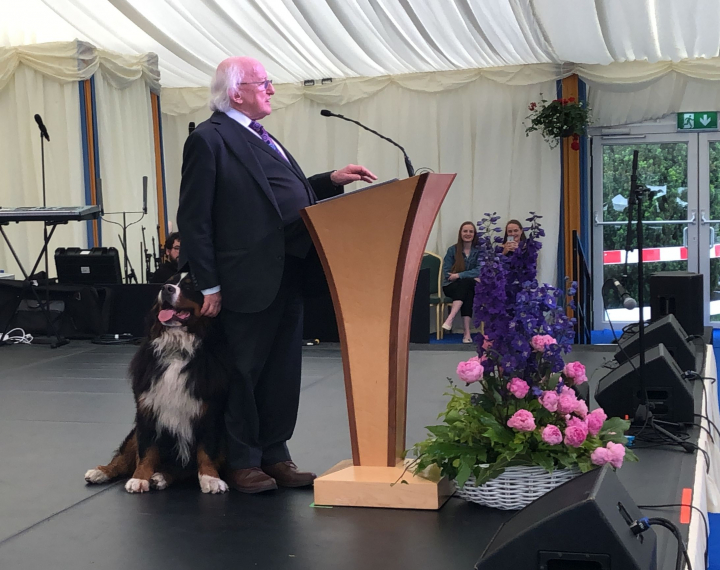 Gender-based Violence was the theme for the President's third Garden Party of 2019.
The event focused on the need to put an end to gender-based violence and President Higgins will highlight Sustainable Development Goal 5 - achieving gender equality and empowering all women and girls. The President and Sabina have invited people working in women's shelters and in organisations working for the implementation for the Istanbul Convention ie 'preventing and combatting violence against women and domestic violence'.
Click on the tab above to read, or listen to, the President's speech.
President and Sabina Higgins have been very vocal on the issue of gender equality and women's empowerment, and President Higgins has stated on many occasions that addressing gender based violence is a key step towards a more inclusive society, in which everyone is encouraged to play their part.
President Higgins is one of the champion world leaders of the global "HeForShe" campaign to advance gender equality, encouraging organisations to take action in solidarity with women, and to develop a strong coalition working towards the achievement of gender equality. The President has said that violence against women and girls is one of the most widespread, persistent and devastating human rights violations in our world'.
In 2016, to mark International Women's Day, the President hosted an event at Áras an Uachtaráin, which was attended by staff and volunteers of organisations with a significant male membership. The President said the event was an appeal to men to say "your assistance, your new thinking, your action, your willingness to speak out is necessary if we are to join with the 50 per cent who are not achieving their full rights". https://president.ie/en/diary/details/president-hosts-a-reception-in-his-role-as-a-global-world-leader-of-un-wome