Douglas Hyde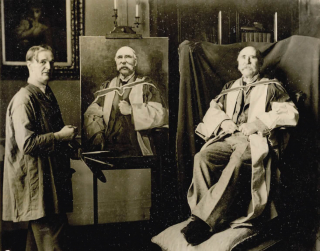 Dubhghlas de Híde (Douglas Hyde) (nom de plume "An Craoibhin Aoibhinn") was the first President of Ireland from 25 June, 1938 to 24 June, 1945.
He was born on 17 January 1860, in Castlerea and grew up in Frenchpark, Co. Roscommon. He was Co-founder and First President (1893-1915) of the Gaelic League, the national movement for the revival of the Irish language. He died on 12 July 1949.
Interim Professor of Modern Languages at the provincial University of New Brunswick, 1891.
President of Irish National Literary Society, 1894-5.
President Irish Texts Society; Assist. Editor, New Irish Library, 1897.
Professor of Modern Irish, University College Dublin, 1909-32: Dean of Celtic Faculty.
Member of the Senate N.U.I., 1909-19.
Chairman of the Folklore Institute, 1930-34.
Editor Lia Fáil, 1925.
Member of Seanad Éireann, 1925 & 38.