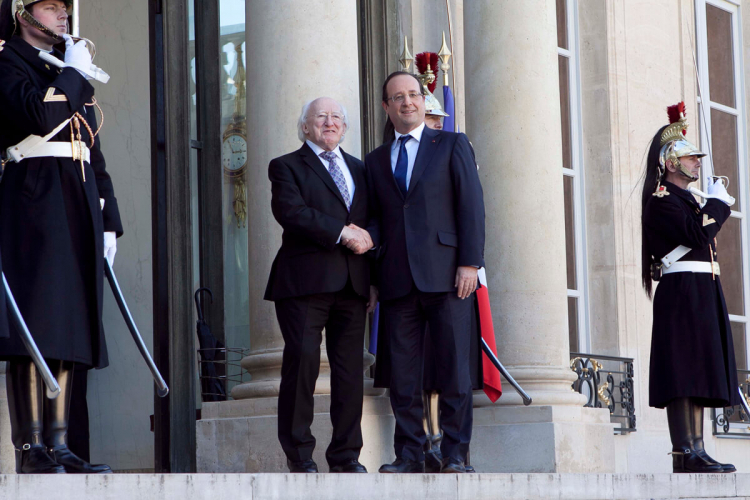 Statement from Áras an Uachtaráin on meeting with President François Hollande
Published: Tue 19th Feb, 2013 | 11:47
At the invitation of the President of the French Republic, the President of Ireland, Michael D. Higgins met with President François Hollande at the Élysée Palace, today.
The Presidents had a warm discussion for forty five minutes on a range of topics including the future of the European Union and global issues of the moment.The matters discussed included: the future of Europe in this the European Year of Citizens; Ireland's Presidency of the European Union; bilateral relations including economic, social and cultural relations; and aspects of President Higgins' addresses at the Sorbonne-Paris and UNESCO. The Presidents had a discussion on human rights, unemployment particularly youth unemployment and also the importance of a vision for Europe for future generations.
The Presidents also spoke of the exhibition on the work of Irish designer and architect, the late Eileen Gray, which is being shown at the Centre Pompidou.
Following the meeting President Higgins said that he had "very much enjoyed having the opportunity to build on the very close and positive bilateral relationship between our two countries, as well as wider developments in Europe."
President Higgins stressed his support for a social Europe as had been advanced consistently by President Hollande and "the need for a European Union that values cohesion and solidarity, as well as economic growth". He believes that these values are strongly shared by President Hollande and welcomes in particular "the very positive role the French President has played in the debate on the importance of a social Europe."
President Higgins thanked President Hollande for his support for Ireland on so many European Union issues in recent times.