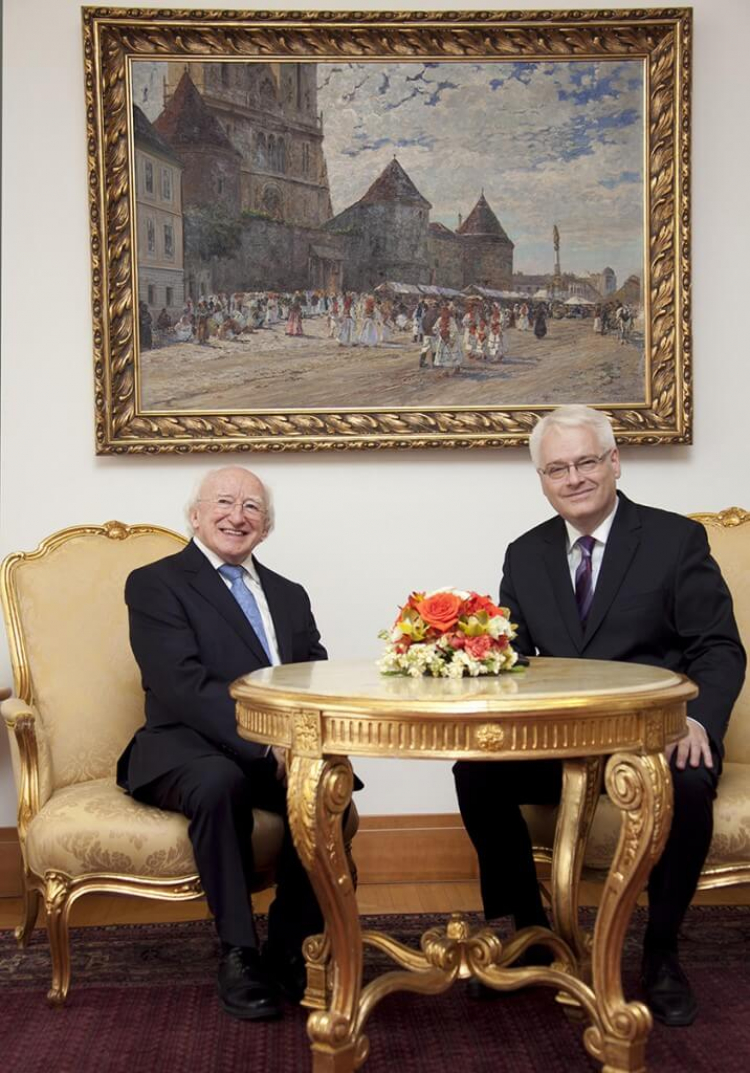 State visit to the Republic of Croatia
Published: Tue 4th Jun, 2013 | 12:25
State visit to the Republic of Croatia by
President Michael D. Higgins and Sabina Higgins
President Michael D. Higgins will undertake a State visit to Croatia from Tuesday 4th to Friday 7th June 2013. The visit takes place during Ireland's Presidency of the European Union and as Croatia prepares to become the 28th Member State of the Union on 1st July.
The President, who will be accompanied by Sabina Higgins will depart on Tuesday evening, on completing engagements in Dublin. He will be met in Zagreb by Mr. Kieran Dowling, Ambassador of Ireland to the Republic of Croatia and Mrs. Móirín Dowling.
On Wednesday 5th of June President Higgins has a private meeting with the President of the Republic of Croatia, Mr. Ivo Josipović, after which there will be bilateral talks led by both Presidents and involving both delegations. Later in the evening the President and Sabina Higgins will attend a State dinner hosted in their honour by President of the Republic of Croatia and Dr. Tatjana Josipović.
On Thursday 6th of June the President will meet with Mr. Zoran Milanović, Prime Minister of the Republic of Croatia, at Croatian Government Buildings. Afterwards the President will visit the University of Zagreb where he will be met again by Mr. Ivo Josipović, President of the Republic of Croatia and Dr. Aleksa Bjeliš, Rector of the University of Zagreb. President Higgins will deliver an address entitled, 'Reflecting on the future of Europe: A perspective after 40 years of Membership', after which he will take questions from students and staff.
On Thursday evening both Presidents will attend a concert and an Irish community reception in Zagreb, with entertainment by the 'Lunny, Rynne, Barou Trio'. Up to 200 guests from the local Irish community, Croatians with strong Irish connection, as well as members of the Government, business and cultural sectors, will be in attendance.
On Friday 7th, President Higgins will visit the Archaeological Museum in Zagreb where he will be met by Dr. Jacqueline Balen, Senior Curator & Director. Afterwards the President will be joined by the Croatian President, Mr. Ivo Josipović at a business lunch involving members of the Irish business community and both Irish and Croatian business agencies.
After the business lunch the official state visit concludes and the President and Sabina commence an informal cultural programme at the invitation of President Josipović.
The President will depart Croatia for Dublin on the morning of Sunday 9th June.