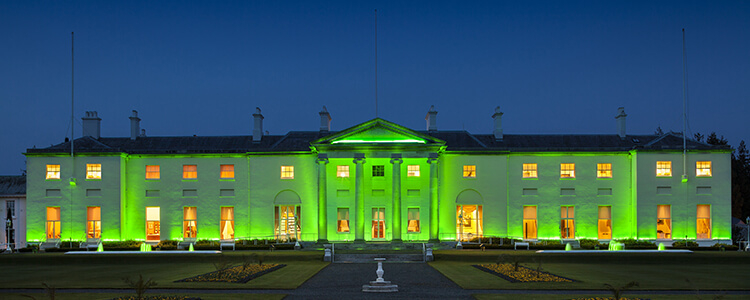 St. Patrick's Day Message 2015
Published: Sat 14th Mar, 2015 | 01:14
I am delighted to send best wishes for St Patrick's Day to the people of Ireland and to our global family and friends around the world.
Today is a day when we come together to celebrate and share our rich culture and heritage. It is also a day when we reflect on the life of St Patrick, our patron saint, a migrant who arrived on our shores some 1,600 years ago. His story was founded on hardship, destitution and great sorrow; but became a narrative of courage, vision and opportunity. It is a story that has been relived time and again by the many Irish people across the centuries who have left their native land to create new homes and communities in countries around the globe, and it is an experience we share with so many migrant populations all across the world, something we must never forget.
This year also marks the anniversary of another of the early Irish Christians, St. Columbanus, who made his own important contribution to faith and learning in Ireland. Like Patrick's, his is a story of great and selfless achievement in the service of others, and a reminder of how the theme of migration lies at the heart of our country's identity.
Today our Irish family stretches far and wide and, as a nation, we are very conscious of the great debt of gratitude we owe to the many members of our Diaspora who remain loyal to the country in which they or their forefathers were born; generously supporting and encouraging those who remained at home and helping to shape and craft the modern Ireland we know today.
The many parades and celebrations held in communities across every continent in honour of St Patrick bear witness to, and provide a focus for, that unique bond which joins in friendship and solidarity all the Irish people and people of Irish descent wherever they may be.
St Patrick's Day also marks a season of regeneration and hope. In recent times the people of Ireland have faced difficult challenges; challenges which necessitated much tenacity and fortitude as we were required to work through testing and dark days. As our economy now moves slowly towards what we hope will be sustainable recovery, we are once again encouraged to look to the future with optimism and confidence. It will, I hope, be a future underpinned by solidarity, community and the fundamental values which must lie at the heart of any just and ethical society.
Today, we recall and mark the life of St Patrick. We celebrate that indefatigable and creative spirit, which has become an innate characteristic of the nation to which he was exiled but came to know and love. We resolve to continue to extend a hand of friendship to those who arrive on our shores in challenging and difficult circumstances.
To all those who share this island, to Irish people by birth or descent wherever they may be in the world, to those who assist and welcome them, and to those who simply consider themselves to be friends of Ireland, I wish each and every one of you a happy St. Patrick's Day.
Michael D. Higgins
Uachtarán na hÉireann
President of Ireland