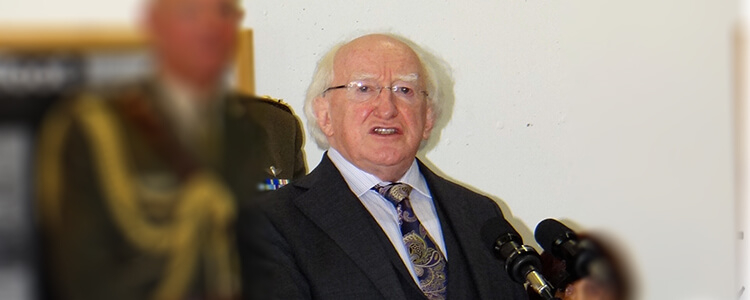 Speech at the official opening of the Robert Emmet Community Development Project Centre
Published: Tue 8th Sep, 2015 | 12:38
Ushers Street, Dublin, 8th September 2015
Tá áthas orm a bheith anseo inniu, i gceantar stairiúil de Bhaile Átha Cliath, chun ceiliúradh a dhéanamh ar ócáid a mharcálann céim nua i stair phobal thiar-theas na cathrach.
[I am delighted to be here today, in this historic area of Dublin City, to celebrate an event which marks a new phase in the history of this South West Inner City community.]
I would like to thank the members of the Robert Emmet Community Development Project for inviting me to join you this morning, and all of you for that generous welcome.
Of the invitations I receive as President to share in events and celebrations across the country, the most inspirational and uplifting occasions are those which are the work of groups and individuals rooted in the true meaning of the word 'community'.
Today is such an occasion, a day when we celebrate, not only the creation of a valuable new facility for all of the residents of this area, but the great well of community spirit which drove this important initiative to its successful and inspiring conclusion.
The real wealth of a truly functioning community lies in its people. The greatest resource is a communal will to work together, to draw strength from each other and to share talents, skills and resources for the benefit of all.
The Robert Emmet Community Centre is founded on great values - a sense of compassion, care and empathy; and the Centre has grown and developed through its own vision for positive change, a vision that was and is shared by all those involved in its creation. The Centre embraces all members of the community, including those who are most vulnerable or excluded, and this allows new futures to be imagined and new possibilities to be realised.
Indeed, it is very fitting that the Centre is named after the great Irish patriot Robert Emmet, a man whose name is written deep into the history of this area and whose own vision and yearning for a better world has left an indelible mark on the Ireland we inhabit today.
It is over two hundred years since Robert Emmett was executed, on a September morning such as this one, and amongst his final words he expressed the hope that:
"My memory and name may animate those who survive me".
Emmett bravely imagined and sought a new Ireland, an inclusive Ireland, and while he may not have achieved that ambition during his own lifetime, his courage and foresight echoed across the generations, inspiring those who followed him in the long battle for a fairer and more just Ireland, a real democracy.
Today we are not asked to give up our lives for our country, but in the quiet corners of the everyday there exists many opportunities to bravely envision and bring better worlds, societies and communities into being. When we seize those opportunities and turn vision into reality, translating ideas into real achievements such as the creation of the Robert Emmett Centre we are demonstrating the spirit of active participation that animates our communities and the lives of those with whom we share that communal space.
Successful communities are also those which are willing to constantly re-imagine, regenerate and evolve, adapting to the needs of an ever changing society. Here today we witness the successful reclamation and re-invention of a previously unused space and its transformation into the resource of a public space of inclusive, supportive and participative community to be shared by all, including and most especially those who are marginalized in our society and struggle to find a voice and to look to the future with hope and optimism.
Although the centre has only been opened a few short months you have created a space which impressively represents the diversity of this community and its myriad needs and interests, and one which has continued to allow the work of the Robert Emmett Community Development Project to grow and flourish.
I am already aware of the significant contribution the Development project has made to the South West Inner City community since its inception twelve years ago. Your stated aim to :
"be a resource in the area for families, young people and adults to support a healthy, sustainable and thriving community"
is one you have consistently honoured across the years. I am confident your many valuable initiatives, which include child protection programmes, an after school club and regular gatherings for senior citizens as well as heritage programmes, the promotion of a healthy physical environment through projects such as bee keeping in the city centre and the development of a communal garden, job seeking assistance and opportunities for all generations of the community to enjoy outings and events and to share and develop talents and interests, will thrive and prosper here in your new home.
There can be no doubt that you have created, here, a significant resource of which you can all be very proud and which stands as a symbol of a community which cares about all of its people.
So, today, on Ushers Street, we celebrate the best version of ourselves as a people and a society and are reminded of all that can be achieved when citizens come together with a sense of common purpose.
May I conclude by congratulating all those who have been involved in the transformation of this building into this multi-purpose community space. I know that among the guests this morning we have representatives of the agencies who provided the funding for this project, including from the Irish Youth Foundation which provided grant support for this project, the National Lottery, Dublin City Council, the German Irish Chamber of Commerce – they are all to be congratulated for helping to make this day possible. I believe that Strictly Come Dancing had more than a little to do with raising the necessary funding too!
But the real story of the Robert Emmet Community Centre and the Robert Emmet Community Development Project is the story of how a grassroots local community organisation was able to harness the support of these agencies and, crucially, also harness the support of local residents, local businesses and voluntary organisations to bring this magnificent project to its successful conclusion.
Whether you gave generously of your time or your money or your skills and knowledge, you have played your own significant role in the ongoing development and evolution of this community and left your own positive imprint on its landscape.
Gabhaim buíochas libh agus tréaslaím libh ar fad agus guím gach rath agus sonas don todhchaí ar an uile duine a thapaíonn na deiseanna a chuireann an ionad seo ar fáil.
[I thank and congratulate you all and wish all those who avail of the opportunities provided in the centre every future success and happiness.]
Go raibh maith agaibh go leir.