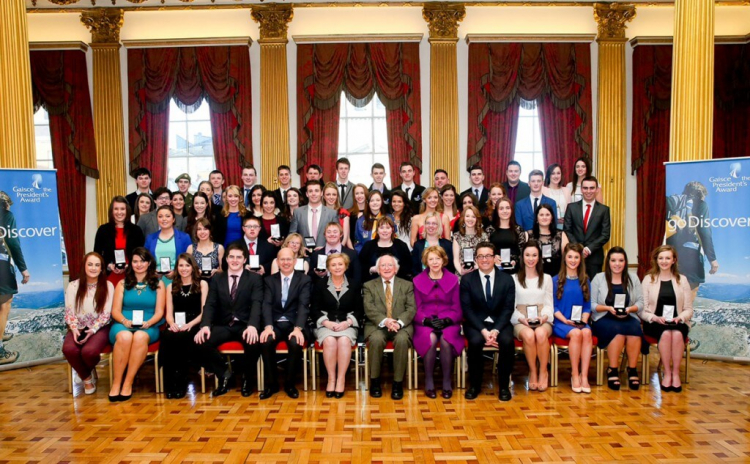 President presents Gaisce Gold Awards
Date: Tue 11th Feb, 2014 | 14:44
It is a real pleasure to be with you this afternoon, in Dublin Castle, to present 54 talented, determined and generous young people with the Gaisce Gold Medal. The award you will receive today crowns your journey of both personal transformation and spirited commitment in the service of your community. It was, for all of you, a journey that involved great perseverance and the surpassing of your own limits. Today is your day, a very special occasion on which you, your families and friends, your teachers and mentors, and all those who have been part of your path to Gold can and should feel very proud.
Tá searmanais den sort seo tábhachtach. Tugann siad deis dúinn aitheantas phoiblí agus ómós a thabhairt don iliomad slí ina bhfuil na daoine óga atá bailithe sa seomra seo tar éis cuidú le saibhriú a bpobal áitiúil agus, leis sin, le saibhriú na tíre i coitinne trína gcuid diansaothair, a smaointe agus a ndíogras anamúil.
[Ceremonies such as this one are important. They present an opportunity to publicly acknowledge and honour the many ways in which the young people gathered in this room have – through their hard work, inventiveness and passion – contributed to enriching their local communities, and, thereby, our society as a whole.]
It is sometimes difficult for an individual person to envision what contribution he or she can make to the public good, or to the nation at large. Working for the betterment of society on a local level is a sure way to achieve this. And it has been one of the merits of Gaisce, since its launch in 1985, to foster a culture of active citizenship among our young people, through the promotion of volunteering and participation in local initiatives.
Some of you got involved with children's groups; others chose to volunteer with the Reserve Defence Forces or the Civil Defence; still others undertook sports' coaching, while a number of you focused on the needs of the most vulnerable in Irish society, such as older people living in isolation, or children and adults with disabilities.
Beyond the diversity of your achievements, one unifying feature of the Gaisce scheme – perhaps its most remarkable quality – is that it encourages participants to sustain their engagement over several years. Indeed many of you have been taking part in the programme since your mid-teens: you first completed the Bronze Award and resolved to continue your Gaisce path, on to the Silver Award, and eventually the Gold. The value of such long-term involvement cannot be overstated. At a time when I am encouraging the widest possible discourse on ethics – on how we might best live ethically together – I salute your efforts.
What a contribution it would be to our sense of identity, and to our reputation internationally, if Ireland became a name associated with an ethical Republic, where care for others comes first – before the pursuit of consumption, or any corrosive cynicism.
I want to thank all those involved in Gaisce for providing our young people with the framework they need to pursue their formative endeavours in a structured manner. I commend the Gaisce Council, led by Chairman John Concannon and interim C.E.O. Anna Coyle, and all of Gaisce's staff, for their dedication to promoting the Award. My special thanks go to Elaine Divilly for her kind and efficient help in organising today's ceremony.
May I also extend my sincere thanks to each and every one of the President's Award Leaders, who so astutely discern the needs of young people and give them advice and encouragement throughout their challenging journey. I know that there are about 1,500 Award Leaders across the country, primarily teachers, who give of their precious resource – time –, and so many other independent volunteers who support thousands of young people each year. They do so for the reward that solidarity gives and the joy of contributing to enhancing these young women and men's life experiences.
The ability to commit – and to sustain that commitment over time – by taking part in the collective endeavours of local groups or associations is, I believe, one of the building blocks we need for a strong and genuine Republic. Citizens who are active in civil society associations and civic organisations all the more easily acquire what Alexis de Tocqueville called the "habits of the heart" that are necessary to enrich the life of the Republic.
These qualities of dedication, concern for the public good, initiative and perseverance are ones which all of you, I am sure, will carry into adulthood. These are skills of character which will serve you well throughout your lives as both private individuals and citizens.
Gaisce also establishes a positive connection between social responsibility and personal growth. Not only does the programme encourage participants to commit socially, but it also motivates them to cultivate a set of personal skills – whether artistic, sportive, linguistic or philosophical. The emphasis on physical activity is certainly a constructive one, for it is true that a balance between body and mind is often the hallmark of well-rounded, accomplished personalities. As we recognise this, we must, of course, bear in mind that the world that is now under conditions of great change requires intellectual and moral courage.
The list of physical activities undertaken by today's Award recipients is impressive: from swimming to dancing and tennis, and even trampolining. Reading through your individual stories, I was struck to note how many of you had discovered the virtues of an activity which does not require any special equipment – namely, walking – and how several among you had turned your physical journey into a reflective or a spiritual one by choosing to walk the Camino; a reminder too that our oldest Irish Europeans had a generous vision for humankind without borders.
Over the years, some 300,000 young people have committed to taking part in the Gaisce programmes. Compared with similar schemes internationally, this means that Gaisce has the largest involvement per capita of any country.
Nevertheless work remains to be done to ensure that the formative experience offered by Gaisce is truly accessible to every young Irish person, notably to those young people who find themselves outside of formal education.
It is essential that our young people – whatever their social background, or the specific limitations they may experience at some stage in their life – become aware of their own worth and potential.
I know that the outreach to young people who are outside of mainstream education has been identified as one of Gaisce's priorities, and I stressed the importance of this to me as President when I met with John Concannon and Anna Coyle to discuss the future direction of Gaisce. I assure you of my continued support in fulfilling this important goal.
Gaisce is also an appropriate frame for giving a lead in the ethical use of the new technologies of communication, and for encouraging young people to recognise early, eschew and prevent abuses of these new technologies, whose cruelty has already exacted a terrible price in loss and damaging of life.
To conclude, let me emphasize how the stories of today's 54 awardees reveal the endurance, fortitude, adaptability, creativity and generosity of which the young people of Ireland are capable.
I ngach scéal faoi leith tá meabhracháin láidir den chumas ollmhór atá cuimsithe i ngach aon beatha daonna. Muise, cad atá sa saol ach féidearthachtaí nua a fhiosrú? Tá an uile dune ar thuras taiscéalaíochta go críocha aithnid agus anaithnid, trí comhnascadh na díograise agus na samhlaíochta.
[Each individual story also constitutes a powerful reminder of the immense potential encapsulated in every human life. Indeed life is about possibility and the opening up of new horizons. It is about the exploration of both known and unchartered territories through the combined powers of will and imagination.]
My late friend, the Irish poet and philosopher John O'Donoghue, said in his essayThe poetics of possibility that "the imagination is the great friend of possibility,"[1] and he has wonderful lines to describe the light that difficulty holds, and the intensity of brightness that burns at the heart of impossibility.
I know that such thoughts will resonate with many of you who have experienced the liberation of new forces of creativity and transformation through the completion of your Gaisce programme. They will certainly resonate with, for example, Cuisle's description of her ascent of Mount Blanc as very difficult but "intensely rewarding," and with Glen's observation that the Gaisce experience has taught him "to always see things through, no matter how difficult."
And so again, I would like to congratulate each of the Gaisce Gold Award recipients present here this afternoon.
Comhghairdeas libh ar fad. Tá sibh tar éis gníomh faoi leith a bhaint amach trí bhoinn óir a ghnóthú. Go leanfaidh sibh oraibh i gcónaí ag treabhadh libh.
[Congratulations to all of you. You have accomplished something special in your lives by achieving gold. May you continue ploughing ahead, always.]
Go raibh míle maith agaibh go léir.
[1] O'Donohue, J. 2007. Poetics of possibility. Platonic Centre Pamphlets No.1, p. 23.