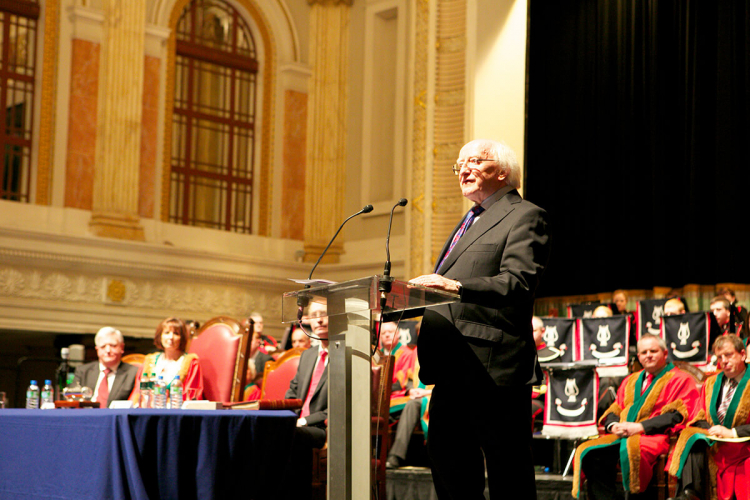 President is presented with Freedom of Cork City
Published: Thu 1st May, 2014 | 15:50
Speech by President Michael D. Higgins
On the Occasion of Receiving the Freedom of the City of Cork
Cork City Hall
Thursday, 24th April 2014
Lord Mayor
Members of the City Council
Distinguished Guests
Ladies and Gentlemen
Is mór an onóir agus an pléisiúr dom é, mar Uachtarán na hÉireann, saoirse na cathrach íontach seo a ghlacadh ó Chomhairle na Cathrach agus ó muintir Chorcaí.
[It is a great honour and a great pleasure for me as Uachtarán na hEireann to receive the Freedom of this great city from the City Council and from the people of Cork.]
I am especially pleased to be visiting you for a celebratory occasion, one that stands in contrast to the circumstances after the floods when I last visited you and was moved, not only by your resilience, but by your powerful sense of community and good neighbourliness.
Lord Mayor,
Standing in this historic hall this afternoon, I am conscious of the rich tradition and history of Cork City Council and of your predecessors as Lord Mayor. Foremost among them, of course, those great patriots Tomás Mac Curtain, a founding member of the Irish Volunteers, and Terence MacSwiney, a poet and playwright whose work was a source of influence on Gandhi and Nehru. Those founding fathers of our nation, in embodying an independence of mind and fortitude of spirit, drew on the tradition and the personality of this city and its people.
I am also mindful of the men and women who have previously received the Freedom of this city, among them my predecessors as President of Ireland – Eamonn DeValera, Sean T. O'Kelly, Mary Robinson and Mary McAleese, as well as Douglas Hyde who was made a Freeman of the City before he was elected President. US Presidents Wilson and Kennedy have received this honour, as have many great Corkonians such as Aloys Fleishmann, Peter Barry, Sonia O'Sullivan, Roy Keane and Sean Og o hAilpín.
Quite rightly, the greater number of the Freemen of the City have been native Corkonians. I am at a certain remove as my mother's family are from Liscaroll and areas adjacent in North Cork. Of course, an aunt of mine lived here in St. Patrick's Hill and married a native of Cork City, Jim Goulding. My father spent a great deal of the early years of the State in North Cork where he fought as an Intelligence Officer in the North Cork Brigade. His brother fought in East Clare and their sister was a member of Cumann na mBan in County Clare.
During this decade of commemorations, it is important we recognise that the suffering and loss of those terrible years, which includes the carnage of World War I, was experienced disproportionately across the island. Cork lost great numbers of men fighting for the Munster Fusiliers at Gallipolli and on the Western Front. Cork also suffered the worst of the fighting in both the War of Independence and the Civil War, which left a tragic legacy. Indeed, this very building stands as a reminder to the great tragedies of that period. Thus the people of this city carry in their folk memory a deep knowledge of the price that was paid for the freedom of our nation.
It was particularly poignant, then, that Cork has played such a central role in the important diplomatic events of recent years as the Irish people wrote a happier chapter in our history. Cork was the last venue visited by Queen Elizabeth during her State Visit to Ireland in 2011; and I have it on good authority that it was one of the high points of Her Majesty's visit. My own State Visit ended in your twin city Coventry where I was delighted to be joined by a number of the members of Cork City Council as we celebrated the deep bonds that have been forged by the experiences of migration between Ireland and Britain.
It is appropriate then that Cork plays such a significant role in facilitating interaction and dialogue between peoples, and that Cork should stand as a symbol for hospitality and friendship between nations. For centuries Cork was the gateway between our island and the Atlantic, and indeed the world. This harbour and those living and working in it have been positioned centre-stage in each of the major acts in Irish history. Cork was central to development of transatlantic trade in the 17th century, to the growth of naval power in the 18th century and to the tragedy of famine and emigration in the 19th century.
Indeed, it is not without significance that, while the motto of Dublin translates as "Happy the City where Citizens Obey", your own motto – representing your enduring contrarian tradition – is the far less deferential and emphatic statement of fact: "Statio Bene Fide Carinis". I suspect that if you were asking a Cork man or woman the meaning of that motto, they would certainly be able to translate directly from the Latin and would tell you this means: "A Safe Harbour for Ships." And then emphasising the hospitality dimension, they might also add a nonchalant and self-evident "like".
Rooted in its maritime tradition, Cork has always been a European City where new influences have melded with old traditions to inspire creativity and genius, energising the cultural life of the nation. In the 1960s, the revival of our national musical tradition was being led by the great Seán O'Riada. Seán O'Tuama at UCC had already produced his Nuabhéarsaíocht, giving recognition to contemporary Irish language poets, and it was also in UCC in the early 1970's that a whole generation of poets emerged writing in English and in Irish under the inspirational mentorship of John Montague. This generation which includes Gabriel Rosenstock, Nuala Ní Dhomhnaill, Theo Dorgan, Sean Dunne, William Wall and Tom McCarthy made, and continue to make, an immense contribution to the life and literature of our country.
Cork is rightly known for its great prose writers – O'Connor, O'Faolain and Corkery – whose work defined an entire art-form. More than half a century ago, the Irish short story was redefined by such as Frank O'Connor. He and others showed a deep knowledge of the great European writing; they introduced, for example, the power of the Russian long short story, as well as the experimental forms in French and other European languages.
But we should celebrate equally your wonderful poets, that golden generation who studied on the Western Road in the 1970's, and also the genius of all forms that was Patrick Galvin, whose Mad woman of Cork would have justified radio as a medium on its own, and the incomparable Sean O'Ríordáin, who I put alongside Máirtín Ó Direáin as a poet of sensibility and loss in the near modern period.
What all of these artists and institutions have in common is a rejection of elitism in the arts and a commitment to bringing excellence in Irish and world culture to the people of the city. The city's public institutions have played a central role in this, not least Cork's great tradition of public libraries (from which Tom McCarthy has recently retired); as has the unique treasure that is the Crawford Gallery which, I recall from my period as Minister for Arts, Culture and the Gaeltacht, had the most expensive crack in the roof in the Western World. Other Cork institutions and initiatives have made vibrant contributions to our shared cultural life such as your Opera House and theatres; the Munster Literature Centre and the Triskel Arts Centre; and international festivals such as the Jazz Festival, the Cork Film Festival and the new IndieCork Film Festival.
So, as a writer, visitor, and as President who recognises and seeks to cherish and promote our national culture in all its diversity and richness, I want to say to you all that the Irish people have much to celebrate, and be grateful for, in the unique cultural heritage of Cork. Yours is a city blessed by wit and warmth, which stands as a safe harbour not only for ships, but for creativity and culture. To become a Freeman of a city of writers and poets, a city of sports-men and women, of musicians and composers, of patriots and artists is indeed a great honour.
This City Hall stands facing the great harbour of Cork and I can think of no better way to finish than with some words written by my good friend and son of the Northside, Theo Dorgan, who in a recent incarnation had taken to the sea and described the vision of the Harbour as seen from an approaching vessel:
In his Sailing for Home Theo addresses Cork as follows:
"Cork of the great harbour, Cork of the merchants and canny dockworkers, Cork of the troopships, Rebel Cork, Cork of the martyred Lord Mayor; stone quays from which tens of thousands sailed into loneliness and dispossession, quays known to sailors of every nationality under the sun, quays and their pubs, sanctuaries and schools; my waterborne city built on a marsh, her motto 'Statio Bene Fide Carinis' — A Harbour Good and Safe for Ships', Cork with her tower of Shandon topped by a golden salmon, Cork with her back to a sufficient province, her many faces turned always to the south and to the sea."
You can understand that, with such a stirring invocation of the city of Cork offered by one of your own, it is with a great sense of humility and appreciation that I gratefully accept your conferring of the Freedom of Cork City on me.
Guím rath agus beannacht oraibh, ar bhur gcathair is ar bhur muintir, agus gabhaim buíochas ó chroí libh as an fíor chaoin fáilte a d'fhear sibh romham féin agus roimh mo bhean chéile Saidhbh