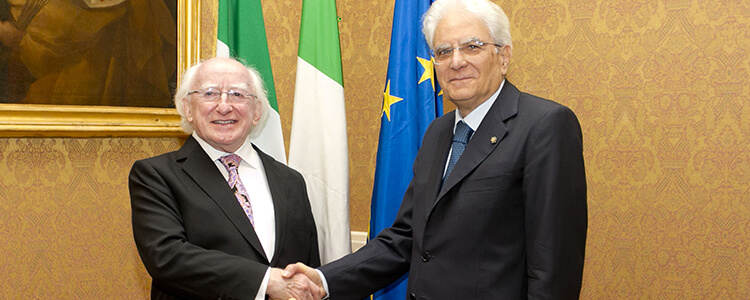 President Higgins on three-day Official Visit to Italy
Published: Mon 15th Jun, 2015 | 11:55
President Higgins on three-day official visit to Italy, which will include the opening of Irish National Day at 'Milan EXPO 2015' and a meeting with President Matarella
President Michael D. Higgins will depart Dublin for Milan today (Monday 15th June) on a three-day official visit to Italy. During the visit President Higgins will meet with the Italian President, Sergio Matarella at the Quirinale Palace in Rome. President Higgins will also perform the official opening of the Irish National Day at 'EXPO 2015' in Milan. The President will be accompanied by Sabina Higgins.
Monday 15th June
On arrival in Milan on Monday evening the President will be greeted by the Ambassador of Ireland to Italy, Mr Bobby McDonagh. Later in the evening the President will be guest of honour and address a high-level business dinner hosted by the Irish Embassy, in conjunction with Bord Bia, Enterprise Ireland, IDA and Tourism Ireland. The audience will mainly include members of the Italian business community and agencies, already involved, or can be potentially involved, in direct trade with Ireland.
Tuesday 16th June
On Tuesday the President will officially open the Irish National Day at EXPO 2015. This date was specifically chosen to coincide with Bloomsday. The theme of Ireland's participation at EXPO 2015 is 'Origin Green', which encapsulates Ireland's drive to become a world-leading producer of sustainably produced food. This theme also addresses the central theme of EXPO 2015: 'Feeding the Planet, Energy for Life'. On performing the official launch of the Irish Day at EXPO the President will deliver an address and attend a performance by the Irish traditional group Brú Ború. Having visited all areas of the Irish Expo stand and having met with those directly involved in this showcase of Ireland, the President and Sabina will visit the Italian stand and a selection of other stands which are likely to include; Ethiopia, Guatemala, Kenya, Colombia, Uganda, El Salvador and China, where previous contacts will be developed.
Later in the evening the President and Sabina depart for Rome.
Wednesday 17th June
On Wednesday the President has a formal meeting with the President of the Italian Republic, Mr Sergio Matarella. This is President Higgins' first meeting with President Matterela: President Higgins met with his predecessor, President Napolitano on a number of formal occasions in 2013. Later the President will attend the official launch of 'Il Tradimento e Poesie' - a translation into Italian of a collection of his poems by Professor Enrico Terrinoni, published by Del Vecchio Editore.

The President and Sabina return to Dublin on Wednesday night.