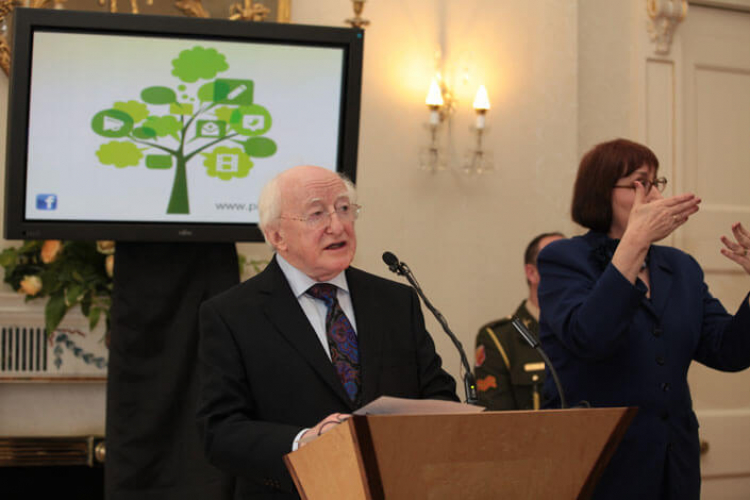 President Higgins calls for young people's vision
Published: Mon 21st May, 2012 | 17:19
The Presidency Seminars – 2011 to 2018
Shaping Ireland's Shared Future
Learn More about 'Being Young & Irish' Here
President Higgins today (25 May 2012) invited young Irish people to offer their vision for Ireland and asked them to think and speak of how that vision might be achieved.
Speaking as he officially launched, Being Young and Irish, the first in a series of Presidency Seminars, President Higgins said,
"I said in my inauguration speech that as part of my Presidency I would host a number of Presidency seminars which would reflect and explore themes that were important to the shared life of the Irish people. The first of these Seminars will focus on the theme of Being Young and Irish. I also said on that occasion that we must together build a new citizenship for which we need a new discourse.
We must seek to build together an active, inclusive citizenship: based on participation, equality, respect for all and the flowering of creativity in all its forms. A confident people is our hope, a people at ease with itself, a people that grasps the deep meaning of the proverb 'ní neart go cur le chéile' – our strength lies in our common weal – our social solidarity."
Listen to the President's Remarks here
At the launch in Áras an Uachtaráin this morning the President invited young people to use whatever media suited them best to put forward their vision for Ireland. He mentioned as examples narrative, song, poetry, video or audio recordings.
He suggested that in their submission to www.president.ie or via post to Áras an Uachtaráin young Irish people at home and abroad address the following questions:
What is your vision for Ireland?
What can you and other young people do to achieve this?
What else needs to happen to make your proposals possible?
In addition to the online and postal consultation process the President will host a number of face to face regional workshops. The multimedia consultation and workshops will culminate with a final Presidency seminar to be held in Áras an Uachtaráin later this year. The President will also publish a final Being Young and Irish report and will deliver this report to the appropriate authorities and agencies.
The deadline for submissions to the multimedia consultation for Being Young and Irish is 29 September 2012.