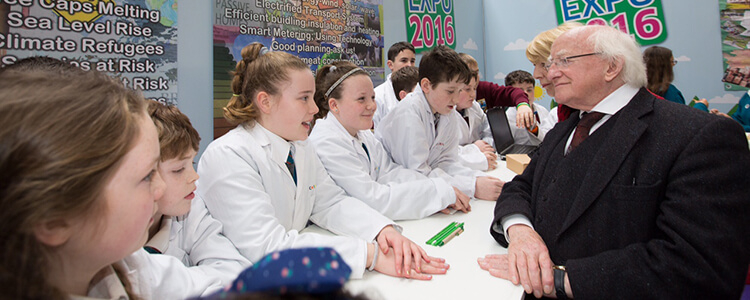 President attends the first Green Schools Expo
Published: Thu 25th Feb, 2016 | 09:57
President of Ireland, Michael D. Higgins officially launched the Green-Schools Expo 2016 at the RDS on Thursday, 25th February, 2016.
The event, Ireland's first environmental expo for schools, attracted five thousand visitors from schools across the country.
Organised by Green-Schools, the expo showcased exhibits across six themes by 23 exemplary and innovative Green-Schools. Projects on display included a hydroponic farm showing water reuse; briquettes made from recycled paper; puppet shows explaining invasive species; a garden of global friendship and how to use toast as a walk-to-school incentive.
In his speech, President Michael D. Higgins spoke of the achievements of the Green Schools and highlighted our responsibilities as citizens for the implementation of the Sustainable Development Goals and for halting climate change, which he said is one of the greatest challenges of our time.