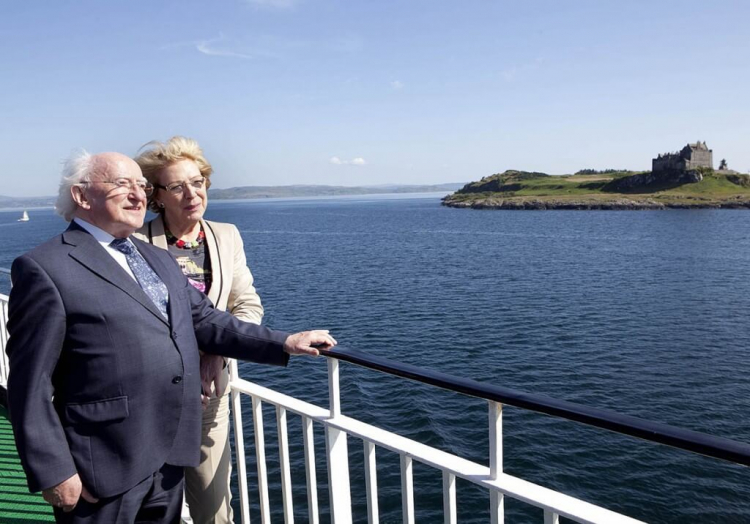 President attends 1450th anniversary celebrations of St Colmcille's arrival on Iona
Published: Wed 17th Jul, 2013 | 12:29
President Higgins will make two visits to the UK this week, one to London, and another to Iona in Scotland to celebrate with the Inter Faith Community the 1450th anniversary of the arrival of St Colmcille on Iona. The Isle of Iona on Scotland is long associated with St Columba/Colmcille.
On Tuesday17th the President departs for London and that evening he will attend the Conor McPherson play, 'The Night Alive' at the Donmar Warehouse Theatre.
On Wednesday 17th, the President visits the Haringey Irish Cultural and Community Centre, where he will meet with, and address members of the Irish Community, as well as local public representatives. The Irish community in attendance will include representatives in the London GAA team who will compete in the Connaught Football Final on the 21st of July.
In the afternoon the President will be presented with an Honorary Doctorate at Middlesex University before returning to Dublin later in the evening.
On Saturday 20th July the President, accompanied by Sabina Higgins will visit the Isle of Iona, Scotland and attend events to commemorate the 1450th Anniversary of St Columba/Colmcille's arrival on the island. The President will deliver a keynote address entitled 'Of Migrants and Migration'.
The President and Sabina will attend an ecumenical service at the Medieval Abbey Church and also visit St Oran's Graveyard which includes the grave of Macbeth, King of Scotland who died in 1057. The President will also visit the grave of John Smith, former leader of the Labour Party d. 1994.
The President and Sabina return to Dublin on Sunday 21st July. The President will be met and accompanied by Ireland's Ambassador to the UK, Mr Bobby McDonagh, on both visits.