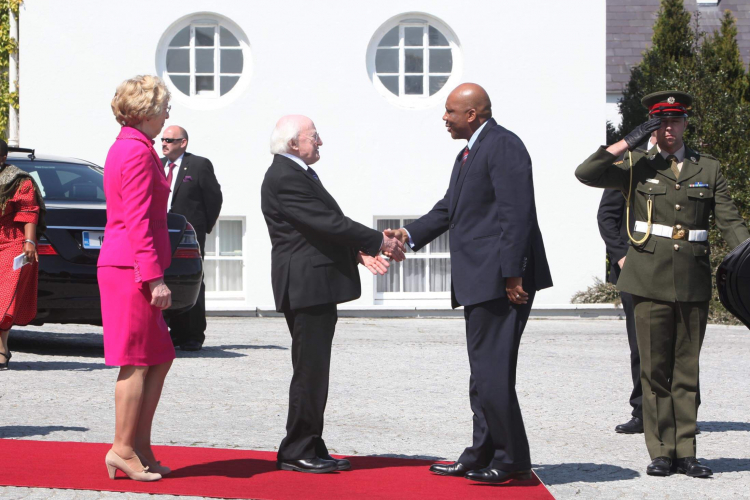 Pesident welcomes King of Lesotho
Published: Fri 20th Apr, 2012 | 17:15
Visit of King and Queen of Lesotho to Ireland, Lunch Remarks by President Michael D. Higgins
Your Majesties:
It is a great pleasure for Sabina and me to welcome you to Áras an Uachtaráin today – céad mile fáilte.
Ireland's relationship and friendship with Lesotho stretches back well over a century. In the nineteenth century, an Irishman, Joseph Orpen, in his capacity as official mediator of the British Government, became a close confidante and trusted friend of King Moshoeshoe the First. In a book he wrote on the history of the Basotho, Orpen spoke of his great respect, admiration and empathy for your people. These sentiments are shared equally strongly today and your visit is a celebration of the strength and vitality of the inter-connectedness between our two countries.
I visited Lesotho myself in 1985 as part of a Parliamentary Delegation that dealt with Development Co-operation and also visited Tanzania and Kenya. While there – in the company among others of Nora Own who is with us today – I visited a number of projects and, of course, saw the white Connemara Stallion from my own constituency.
The relationship between Ireland and Lesotho has evolved through many phases. In the past, the missionary connection was extensive. The focus of the missionaries was primarily in the education field and over time they have been directly involved in as many as 600 schools and teacher training facilities, including the newly established University of Roma. While there are no Irish missionaries currently based in Lesotho, I understand that a number of Oblate priests from Ireland are still located nearby in Bloemfontein.
Your Majesties:
Building on this missionary legacy, our partnership over recent years has been driven by a shared commitment to development cooperation and to the enhancement of the social and economic wellbeing of your people. These development programmes have embraced technical assistance, rural development, basic social services and volunteer initiatives. A number of our development workers, past and present, are here with us today. While they have all made a significant contribution to your country, I know that they, in turn, have been personally enriched through their work in Lesotho and their interaction with your people.
It would be remiss of me if I did not mention the most well known of our projects in Lesotho, if not indeed in Africa. That is the Basotho Pony Project which began in 1973 and led to the development of the Thaba-Tseka National Stud. I know, Your Majesty, that you are very familiar with this project. You also, I believe, had the opportunity yesterday to visit one of our best known stud farms in Coolmore which I hope you enjoyed.
Ireland's official development cooperation programme in Lesotho was our first official programme of assistance and it began in 1975. Its genesis was a meeting of our then Minister for Foreign Affairs, Garret FitzGerald, who later became Prime Minister, and his counterpart from Lesotho. That meeting was the foundation of an enduring and fruitful cooperation programme. It is with great respect and a sense of poignancy that we remember the late Dr. FitzGerald who passed away just one year ago and who made such a great contribution to Irish foreign and development aid policy. On a happier note, I am delighted that another distinguished former Minister for Foreign Affairs and friend of Lesotho, Dick Spring, is with us today.
Your Majesties:
Africa is changing and Lesotho is part of the New Africa. It recently became a Lower Middle Income Country, an important milestone in your development. It is a major achievement for all of the people of Lesotho, for which I warmly congratulate you. A GDP growth rate of 4%-5% would be something that any country in Europe at this time would be very proud of.
As you know, development brings its own challenges. Lesotho is a small country like Ireland and we are both small economies surrounded by large neighbours. Ireland's relationship with Britain was in the past often fraught with difficulty. That relationship has in recent years been transformed and is now the source of great energy and positivity. I know that Lesotho is also working hard to deepen its relationships with its neighbours and I wish it every success in this work.
In Ireland, we have progressed by identifying what we do best, developing our innate talents in agribusiness and in creative industries for example, and have succeeded in becoming a world leader in such sectors. There is no single model for development that can or should be imposed on every country. Each country must find its own pathway to development, one that respects the unique character of the people concerned. In Lesotho, you too are identifying where your greatest potential for development lies. For all of our countries this must be based on our people and means a primary demand of our investment must be in their well-being and education.
In the area of education, which is of particular interest and importance to me, I wish to acknowledge the personal dedication and commitment that Her Majesty the Queen has shown. We, in Ireland, recognise the value and centrality of education to the social and economic development of our country and I am pleased that we have brought some of our educational experience, and it is extensive, to bear on the development of our cooperation programmes in Lesotho.
Working in partnership with your Government, we together have helped to build schools and teacher training facilities. We have also been delighted to host post-graduate studies in Ireland for Lesotho officials. A number have already graduated from Irish universities and they are now working in key positions in Lesotho and across Africa more generally. Similarly, our two countries are working together to provide access to health services in remote and isolated parts of Lesotho. These services also include vital treatments in the area of HIV/AIDS. I have a personal interest in the rights of the disabled and I am aware that Lesotho has ratified the UN Convention on the Rights of Persons with Disabilities in 2008.
Africa is enjoying a period of unprecedented economic growth. This growth creates urbanisation and increased demand in cities for fresh water. Lesotho is blessed with natural water resources and you are already supplying major cities in South Africa. Africa will also require access to affordable energy. The potential for the development of hydropower and wind energy will be an important part of your development and I am pleased to note that you will be meeting with our own electricity distribution company, Eirgrid, during your visit.
Your Majesties:
Ireland is proud of its long period of friendship, contact and collaboration with Lesotho. Over this period, we have developed a very close and friendly relationship and I trust that this special relationship will endure and grow to the mutual benefit of both our nations. Khotso! Pula! Nala! (Note to Editor: Lesotho mantra: Peace! Rain! Prosperity! )
I would now like to propose a toast to their Majesties, to their continued good health and to the well-being and prosperity of the people of Lesotho.
Ends