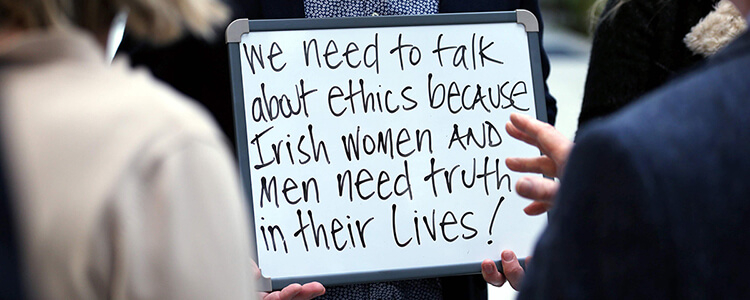 National Ethics Seminar
Published: Wed 25th Mar, 2015 | 14:44
PRESIDENT MICHAEL D. HIGGINS TO HOLD SECOND MAJOR NATIONAL SEMINAR
The President of Ireland's Ethics Initiative
On Saturday, 28th March President Michael D. Higgins will hold a Presidency Seminar at Áras an Uachtaráin. This, the President's second major national seminar, will review the findings of over a year's work on the opportunities and challenges facing Ireland in building a more ethical society.
Over 60 events have taken place nationwide since the launch of the initiative in February last year. 'The President of Ireland's Ethics Initiative' drew a wide response from the third level, civil society and the community sectors. Saturday's seminar will examine the experience of these various initiatives. It will also provide a platform for discussion on key ethical issues facing Ireland at this time, many of which have come to the fore during the course of the initiative, including the role that individuals and institutions might have in constructing a more ethical Ireland.
The seminar will open with a keynote address from the President followed by panel discussions, a group workshop and presentations from representatives of the third level and NGO sectors. Among the NGOs present will be Dóchas, the Irish Congress of Trade Unions, the National Women's Council of Ireland, the Society of St. Vincent de Paul and The Wheel who have all responded to the President's Initiative with their own separate projects addressing in their different ways the ethical dimensions of poverty, development, work, gender and community.
Speaking at the launch of the initiative last year President Higgins said:
"It is my hope that these individual events, and other initiatives in the discourse on ethics will be the source of extensive public debates, and meet the expectations of our citizens for such values as will enable us to build a sustainable social economy and a society which is profoundly ethical and inclusive."
In his inaugural address on 11 November 2011 President Higgins announced his intention to hold a number of Presidency Seminars which would reflect and explore themes important to Ireland's shared life yet separate and wider than the immediate events to which legislation is directed.
The first of President Higgins' Presidency Seminars 'Being Young and Irish' engaged directly with over 800 young people and considered their vision for Ireland. Both the Take Charge of Change declaration and the Take Charge of Change Report were published as a result of that project. Many of those who took part expressed the wish for a more socially conscious Ireland, a society where at its very core lay values of care and concern for the welfare of all our citizens.
Various initiatives arising from ' The President of Ireland's Ethics Initiative', and that are the subject of Saturday's seminar, will come to fruition over the coming months and the coming year.
Members of the public, representatives of the third level and civil society sectors, senior civil servants and business leaders are expected to be among the invited audience on Saturday.