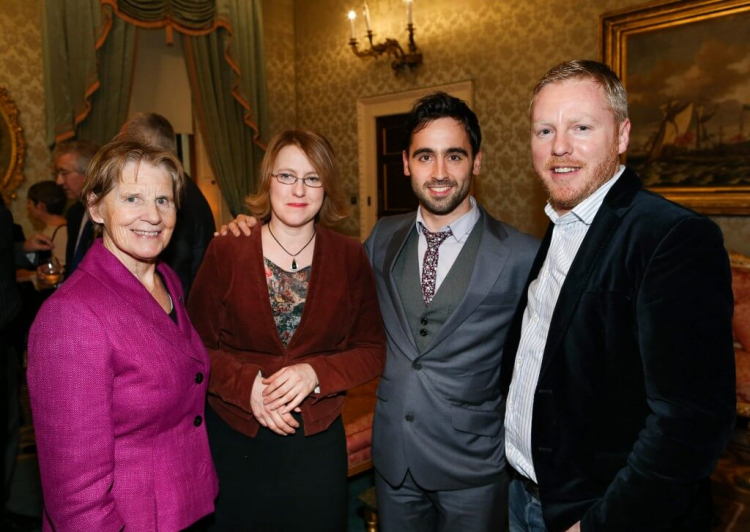 International Human Rights Day
Published: Wed 11th Dec, 2013 | 14:31
International Human Rights Day marked with special Beckett performance at Áras an Uachtaráin
President Michael D. Higgins and his wife, Sabina, wish to mark International Human Rights Day (10th December) by a performance, Ethica, at Áras an Uachtaráin for invited guests from the island of Ireland's human rights and NGO sectors. In the unavoidable absence of President and Mrs Higgins (due to attendance at the State Memorial Service for former President Mandela), the event will be hosted by members of the Higgins family.
Ethica is the collective title for a performance by Sugarglass Theatre of four short plays by Samuel Beckett; Play, Come and Go, Catastrophe and What Where. The works explore questions of ethics and human rights both from a domestic and political perspective. Themes include fidelity, justice, secrecy, tyranny, violence, resistance and memory.
Before his departure to South Africa, President Higgins said:
"Sabina and I are delighted that Sugarglass Theatre will perform Ethica in Áras an Uachtaráin. It is a very apt way of celebrating International Human Rights Day. Drama is a powerful instrument for reflecting the ethical dimension of our shared humanity and for highlighting the importance of human rights in all our lives. Although we cannot be present, we are very pleased that representatives of the human rights community in both parts of the island will be in attendance"
The plays are directed by Marc Atkinson and Nicholas Johnson. The cast includes Peter Corboy, Ellen Flynn, Matthew Malone and Maeve O'Mahony.
Over 100 representatives of Ireland's and Northern Ireland's human rights and NGO sectors will attend the performance. They will include, amongst others, representatives of the Irish Human Rights and Equality Commission, the Northern Ireland Human Rights Commission, Amnesty International, the Equality Commission for Northern Ireland, the National Women's Council of Ireland, the Migrant Rights Centre and Pavee Point.