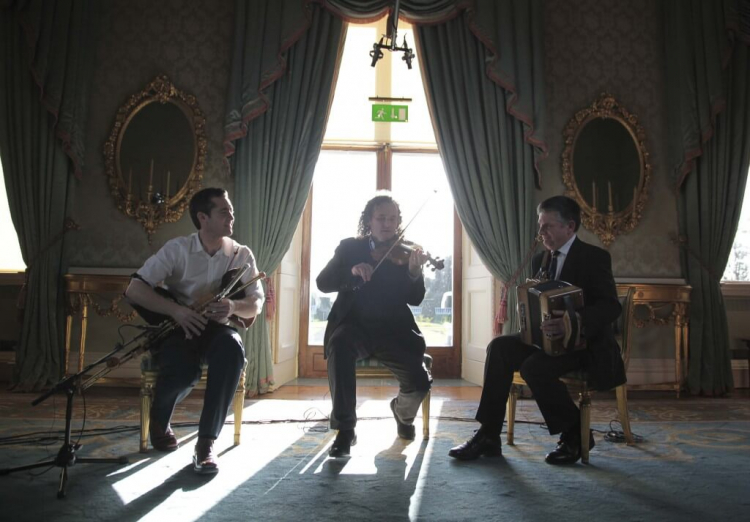 Glaoch an Uachtaráin
Published: Tue 19th Mar, 2013 | 11:57
Ar Lá 'le Pádraig, i gcomhpháirtíocht le RTÉ agus The Gathering Ireland 2013, iarrann an tUachtarán Ó hUiginn ar Éireannaigh timpeall an domhain a bheith páirteach leis i gceiliúradh a dhéanamh ar chultúr Éireannach is féidir linn uilig a bheith bródúil as.
I bhfocail agus i gceol déanann Glaoch ánUachtaráin, an tÉireannachas agus an chruthaitheacht Éireannach agus leathnú agus tionchar an chéanna ar fud an domhain a cheiliúradh. Deanfar Glaoch a chraoladh timpeall an domhain ar 9.30 p.m. an 17 Márta ar RTE.ie, RTÉ News Now agus RTÉ You Tube agus ar an 18 Márta ar RTÉ One, RTÉ Two agus ar RTÉ Radio 1 Extra.
Ar iarraidh ón Uachtarán rinne roinnt scríbhneoirí, ceoltóirí agus amhránaithe Éireannacha a bhfuil cáil orthu timpeall an domhain, agus ealaíontóirí nach bhfuil ach ag teacht chun cinn anois, a bhailiú i mbaile Uachtarán na hÉireann chun clár speisialta a dhéanamh a bheadh tiomnaithe d'Éireannaigh timpeall na cruinne. Rinneadh taibhiú na n-ealaíontóirí uilig a scannánú in Áras an Uachtaráin ionas go mbeidh sé ar a gcumas ag an lucht féachana teach álainn stairiúil Uachtaráin na hÉireann a bhraistint is cuma cén áit a bhfuil siad.
Ag labhairt dó faoin tionscadal, dúirt an tUachtarán:
'Tá mé buíoch de na healaíontóirí uilig a ghlac chomh dearfach sin le mo cuireadh le bheith páirteach sa ghairm domhanda seo d'Éireannaigh, chun an tÉireannachas sin ar féidir linn uilig a bheith bródúil as, a cheiliúradh. Tá mé an-sásta gur aontaigh RTÉ agus The Gathering Ireland 2013 a bheith páirteach sa tionscnamh tábhachtach seo.
Síos tríd an stair seo 'gainne, bhí an litríocht, an ceol agus na healaíona ina fhoinse dhaingne dár sinsir; tháinig siad i gcabhair orainn dul i ngleic leis an angar; mhaolaigh siad an anachain ar a ndearna siad cur síos go críochnúil, ach ina theannta sin rinne siad spás a oscailt amach don athnuachan agus don athrú agus scaip siad suáilce.Tá mé ag súil go ndéanfaidh an clár Éireannaigh gach áita mhisniú le dul leis an acmhainn luachmhar seo arb é ár gcultúr é; féáchaint ar ár gcuid féidearachtaí cruthaitheacha agus ár Éireannachas a shaothrú timpeall an domhain ar mhódh dearfach mar a rinne ár n-ealaíontóirí agus ár saothróirí cultúir.
Is cuid den chlár speisialta an tUachtarán Ó hUiginn i mbun comhrá le Bono, leis an bhfile Séamus Heaney, le Garry Hynes ón Druid Theatre, le Tom Murphy drámadóir, agus le Christy Moore. Tá ceol á sheinm ann ag Steve Cooney, Glen Hansard, Lisa Hannigan, Martin Hayes, Imealda May, Christy Moore, Róisín Ó , Iarla Ó Lionaird, Peadar Ó Riada, David Power agus The Script.
Ar áireamh sa chlár freisin tá filíocht agus dráma. Cuireann an ban-aisteoir Marie Mullen i láthair an radharc deireanach ó Famine, an dráma le Tom Murphy; léann Louis de Paor 'An Glaoch', ar dán dátheangach é a chum sé don tionscadal; aithrisíonn Paula Meehan a dán 'Home' agus in 'Airspace' smaoiníonn Joseph O'Connor ar shaibhreas agus ar éagsúlacht an eispéiris agus an dearcaidh Éireannaigh.