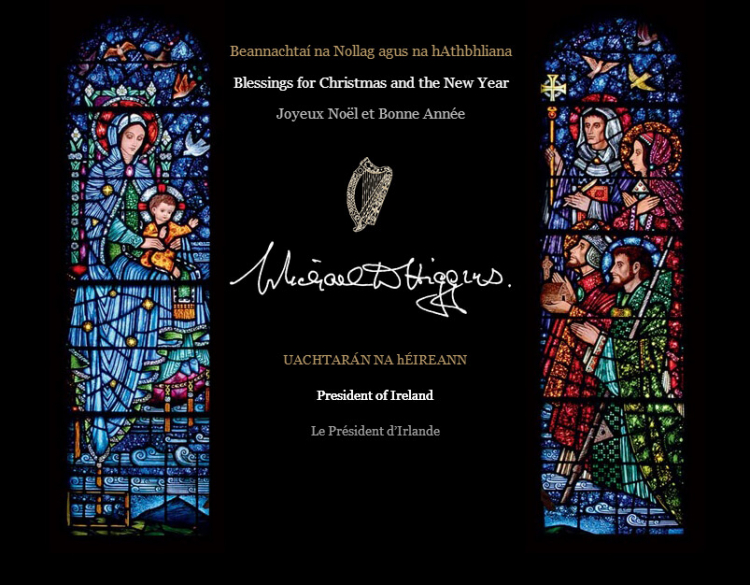 Christmas and New Year Message 2013
Published: Mon 23rd Dec, 2013 | 14:45
May I offer my warmest wishes for Christmas and the New Year to everyone in Ireland, in a special way to our emigrants abroad, and to the members of the extended Irish family wherever they may be.
Christmas is a season of homecoming. It is a time when we rekindle those embers of friendship and kinship that bring meaning, warmth and joy to our lives – lives lived within communities.
As so many of us at this time come together in fellowship, we should be mindful of those who are in distress, alone, or separated from a loved one.
May I, as Uachtarán na hÉireann, thank each and every one of you who are caring for our communities throughout the holiday season and indeed during the rest of the year – including An Garda Síochána, the Prison Service, all of the staff in our hospitals and emergency services, and members of the Defence Forces who are building or supporting peace abroad.
In this year of the Gathering, we extended a warm welcome to the Irish Diaspora.
Christmas, however, reminds us that true hospitality endures and reaches beyond kin and one's own community; it extends to the stranger, the newcomer, the outsider.
Christmas is a time to reflect on what binds us together, as members of the same family, as neighbours, as fellow-citizens and as human beings.
The message of Christmas, shared by many faiths, invites us to care for one another and to be – in an ethical sense – one another's keeper.
Faoi scáth a chéile a mhaireann na daoine, our own ancient language tells us.
At my inauguration two years ago I expressed my wish to engage with a number of themes that affect the welfare and future of our people.
I am pleased that the first of these initiatives, 'Being Young and Irish', has borne fruit. Ireland has young people of great ability who deserve to have confidence in their future and pride in their country.
During 2014 I will be encouraging the widest possible discussion of ethics in every aspect of our lives, nationally and globally.
This will, I hope, make a contribution towards moving beyond a version of our society and economy that has brought so much hardship, required so much sacrifice.
As a New Year beckons, I am confident that Irish people will draw on the character and resilience they have so often shown to craft a vision of our shared Irishness that is defined by the values of care, solidarity, trust and responsibility.
In the year ahead, I will continue to dedicate my abilities to the service of the Irish people at home and abroad, and I greatly look forward to the State Visit to our nearest neighbours and friends in the United Kingdom in April.
May the joys of giving and receiving extend well beyond these precious few days spent in the company of those we love.
Sabina and I wish you all a very happy Christmas.