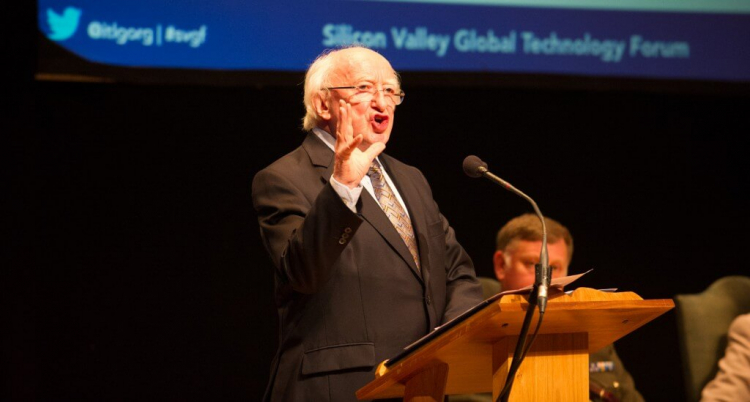 'Building a Republic of Creativity'
Published: Mon 3rd Feb, 2014 | 15:00
A Dhaoine Uaisle
I am very pleased to be here with you today to open this forum. I would like to thank Mr John Hartnett for his invitation for me to be with you here and all of you for that kind welcome.
Déanaim céad míle fáilte a fhearadh chughaibh-se a thaistil aistir fhada le bheith i láthair anseo. Mar Uachtarán na hÉireann, ba mhaith liom a chur in iúl daoibh, gur mor againn bhúr suntas, bhur dtacaíocht agus bhúr dtiomantas chun chur go praiticiúil le forbairt an oileáin seo.
[Let me extend a warm ceád míle fáilte to those of you who have travelled long distances to be here. As President of Ireland, I wish to say that your interest, support and commitment to making a practical contribution to the development of this island are greatly appreciated.]
I would like to particularly acknowledge the Chairman of the Irish Technology Leadership Group Dr. Craig Barrett, who is here today. His work, both academically and as Chairman of Intel, has led to important investments in Ireland and invaluable partnerships with higher education institutions. His chairmanship of The Irish Technology Leadership Group, has made, and will continue to make, a huge contribution to Ireland's overall recovery efforts. Craig was therefore a very worthy recipient of the President's Award for Distinguished Service Abroad, which I was delighted to present to him last November.
I am delighted that this forum is being held in Limerick during this city's year as our designated National City of Culture; allowing a valuable opportunity to bring together the worlds of arts and science, and to reflect on the links between these domains and the importance of fully utilising our creativity in all its forms.
Ideas matter; conversations around ideas fuel the development of science and innovation; and the outworking of good ideas make a positive impact on the efficiency of our economy and quality of our society.
In Ireland we enjoy a reputation for creative talent. It is one that is acknowledged, for example, in The Gloaming's recent CD being at No. 1 in the World Music Charts! There is an illustrious heritage behind Ireland's creativity. A vital part of the Gloaming's creativity is that it represents a collaboration of gifted musicians from Ireland and the United States who are interpreting Irish traditional music in new and exciting ways. We – the Irish – have both chosen and been forced to innovate and reinvent. That reinvention is demonstrated in four Nobel Prizes in literature, taking on and reworking the English language.
Irish creativity is a creativity that is not confined to the arts but has also had a significant impact on the world of science and on the shaping of the technological age that we live in today. As a nation, we can take great pride in the many scientific advancements that have been sourced on this island including Boyle's Law, Bell's Theorem, seismology, the splitting of the atom and, of course, the development of fibre-optics for communication.
That record of original thinking and creative achievement is a wonderful intellectual resource on which we must continue to build. So perhaps now is the time for all of us to reflect on how we will deploy our creativity into every aspect of our lives together, including in reinventing the economic and social models that might guide Ireland, and indeed Europe, into the future.
A strong focus on science, technology and innovation will undoubtedly be at the centre of our future. This conference, this forum, goes far beyond adaptation or imitation. Its debates and deliberations celebrate the arrival of new moulds already broken, and ideas on their way to experimentation and application.
Already we can lay claim to a flourishing technology sector. Ireland is now one of the major destinations, outside of Silicon Valley, in which to pursue a career in technology. More than 100,000 people are now employed in the sector with in excess of 18,000 jobs being created since 2010. In addition, the technology sector is responsible for €72bn of our exports – an astonishing 40% of total exports.
One of our greatest strengths is of course our people and their networks, our diaspora who continually champion Ireland and the skills, values and aspirations of the Irish people. Some of you in that diaspora are here today. You or your antecedents are people who, through hard work and quite often great struggle, have created new lives for yourselves in foreign lands; making valuable contributions in your adoptive countries while maintaining a pride in your homeland of origin and remaining active members of our wider Irish family. You have also brought to us your friends in science, technology and business life, who have become such imaginative, serious, practical and committed friends of Ireland and its young talented people.
One of the great benefits of modern transport, communications and technology is that Irish society is no longer divided into those who stayed behind and those who left forever. The leave-takings from our shores are no longer terminal. The communication with the loved one who has departed is no longer infrequent. Thankfully, the contemporary diasporic experience involves for so many a circular migration – a constant pattern of leaving and returning but always staying connected to home.
We are, we must never forget, a nation in a globalised world that is still in the making, waiting to be transformed in a more sustainable and ethical way; and we have a singular demographic advantage – we are presented with enormous opportunities to harness the talents and the spirit of enterprise of an increasingly young population. There is an opportunity to create a new Ireland, one that is no mere imitation, but a Republic based on a flourishing society that is technically well educated and ethically engaged by the values of justice, decency and compassion.
I recently had the pleasure of attending the Young Scientist Exhibition in Dublin, which this year marked its 50th anniversary. It was thrilling, as I left that event, to be reminded that the Irish winners have gone on year after year to win the European prize as young scientists. It was also an affirmation of the creative and innovative talent that continues to exist – and perhaps in even greater abundance – amongst a new generation of Irish citizens; citizens who will be the policy makers, thinkers, sources of influence and leaders of the future.
At the Young Scientists' Exhibition I spoke of how a changing demographic profile now saw Ireland with the highest proportion of citizens aged under thirty in the European Union and with the most qualifications of that age cohort in Europe. These are statistics that augur well for this country as we emerge from a particularly challenging chapter of our national story where fictive capital wrecked so much of what was real or productive capital and wreaked dire social consequences. As we rebuild our economy and enhance our international reputation, Irish people's enormous wealth of innovative and imaginative young talent confers great advantages on our country and presents us with exciting prospects for the future.
I also spoke of the value of aspiring to be a Republic of Creativity, made possible by a pluralism of models in teaching and research enriched by the creativity and enterprise of young people in the Sciences and their applications, in Technologies and ICT and in Sports, Arts and Humanities.
In a Republic of Creativity every young person should have the opportunity to develop her human potential. Talents, modes of thinking and critical capacities are best nurtured at an early age, with pupils of all origins and social backgrounds being encouraged, while accessing the legacy of knowledge, to develop a sense of curiosity, to question received versions of our contemporary world, and to develop new solutions and creative alternatives to the problems of the day.
I am very pleased to note that this forum will see the launch of The Irish Technology Leadership Group Young Innovators competition. I wish it well and I share your hopes that it will grow and develop as an arena allowing the best of young Irish talent to demonstrate innovative ways to harness the powers of technology. I welcome this competition as I firmly believe that it is through such initiatives that we can foster and support innovation and see new uses for, and applications of, technology.
However, as we build this promising future it must be underpinned by a strong contemporary ethic built on a template of justice – a sense of justice that prioritises meeting the legitimate needs of the many over stating the speculative ambitions of the few.
With greater technology and scientific advancement come increasing ethical choices. There are often difficult choices and decisions to be made. With each new technological and scientific breakthrough come sets of challenging questions about equitable access to this technology and its potential impact on how its users interact with each other, as citizens, as members of a shared community, but also at global level; questions about how and with what ease technology is to be shared as we face collective challenges of climate change, poverty, nutrition, food security.
As the technology sector continues to grow and develop at a rapid rate, the expert knowledge, wisdom and moral leadership of the people in this room will be very important, for example, in establishing ground rules for this era of digital citizenship – ground rules that respect the fundamental decency and integrity of each human being; are based on an understanding that our humanity is rooted in a shared sense of community that needs to be nurtured and sustained; and that acknowledge that what we share must be for a shared flourishing that does not come at the cost of the destruction of the integrity of the personal or the rights of privacy.
May I conclude by wishing you all a very successful, productive and enjoyable conference. I am confident that this forum will serve as a fertile ground for the meetings of minds and exploration of ideas that will benefit the people of Ireland and the global Irish community.
I wish you well in your deliberations and hope that the Conference will be a very enriching experience for all of you.
Thank you very much.
Go raibh míle maith agaibh go léir.
VISIT PHOTO GALLERY