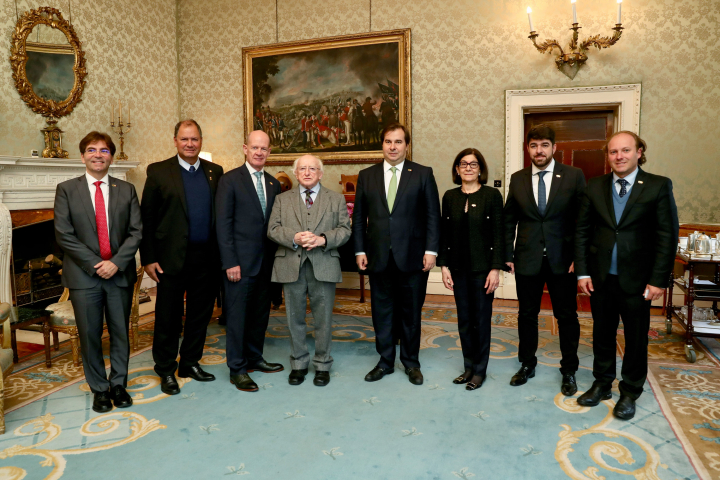 President Higgins met a delegation of Brazilian parliamentarians, led by Mr. Rodrigo Maia, Speaker of the Brazilian Chamber of Deputies, and including Federal Deputy Alceu Moreira, Federal Deputy Rodrigo Agostinho and Federal Deputy Zé Vitor.
Mr. Maia's visit represented the highest-level political visit to Ireland from Brazil since the establishment of diplomatic relations between the two countries in 1975. At the meeting, President Higgins spoke of the many bonds between the two nations and the importance of high-quality dialogue between the two countries.

President Higgins welcomed the opportunity that the visit provided for an exchange of views with frankness and understanding, on such issues as multilateralism, climate change, human rights and the international economy.

The President said the meeting took place at a time of great international and regional challenges, characterised by inter-acting crises of ecology, inequality and diminishing support for multilateral institutions.

President Higgins spoke of the centrality of the Sustainable Development Goals and their focus on reducing poverty, hunger and inequality, highlighting in particular the need to protect the planet, its vulnerable eco-systems and the people that depend on them.

The President said the Sustainable Development Goals and the Paris Agreement to combat Climate Change represented an Agenda of Hope worthy of urgent support.

Stressing the importance of social cohesion, President Higgins spoke of how the achievement of an equality of rights defined a Republic, and of how acts of exclusion were causing great suffering.