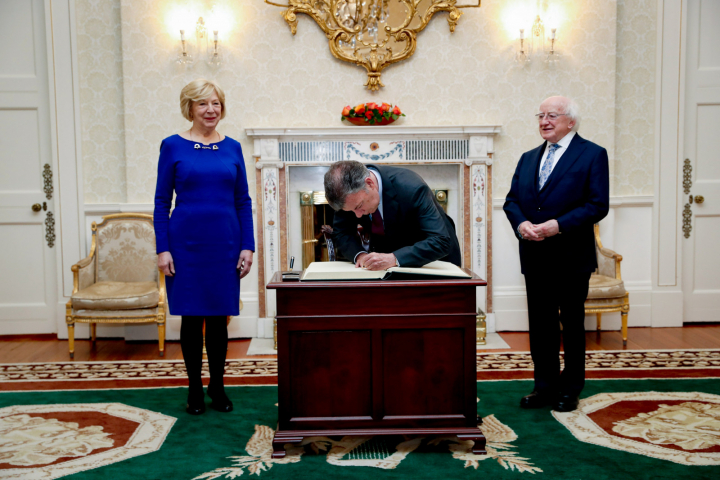 President Michael D. Higgins received former President of Colombia H.E. Juan Manuel Santos, winner of the Nobel Peace Prize and recipient of the Tipperary International Peace Award, at Áras an Uachtaráín.
President Higgins has met with former President Santos on a number of occasions, including in April this year, at the United Nations High-Level Meeting on Peacebuilding and Sustaining Peace, and in February 2017 during the President's Official Visit to Colombia.
At the meeting, the two leaders discussed a wide range of issues of mutual concern, including the challenges to the peace processes in Ireland and Colombia. They also spoke at length about the Brexit process, the challenges of addressing the root causes of involuntary international migration, and the necessary steps to effectively combat climate change, violent conflict and growing inequality.
President Higgins thanked former President Santos for his outstanding leadership in bringing to an end a 50-year armed conflict in Colombia, that has laid waste so many lives.
The discussions also focused on the growing cooperation between Colombia and Ireland, and stressed the need to ensure that the growing economic prosperity in both countries contributes to greater social cohesion and solidarity.
During his Official Visit in 2017, President Higgins discussed the background to the peace process in Colombia with President Santos, and met with leaders of Colombia's largest rebel movement, the FARC, at a rural camp where rebels, Government forces and UN observers were working together to facilitate the demobilisation and reintegration of former rebels into Colombian society.
The President, who in 2010 had been a member of an Oireachtas delegation to Colombia, also met with key civil society organisations involved in the peace process and initiatives in support of sustainable development.
President Higgins also delivered a keynote address at the National University of Colombia (UNAL) on peace, reconciliation and ethical remembering, and the specific contribution to conflict resolution made by the Colombian peace process.
During his visit to Colombia, President Higgins presented President Santos with a Climate Bell. The bell, made by the Irish artist Vivienne Roche, sounds a symbolic warning about the threats of climate change.
See also:
· Statement by President Higgins following his meeting with President Santos, 14 February 2017.
· Keynote address by President Higgins in Bogotá, "From a Past of Conflict to a Future of Peace: The making of a peace process", 13 February 2017
· Statement by President Michael D. Higgins on the 2016 Nobel Peace Prize, 7 October 2016: