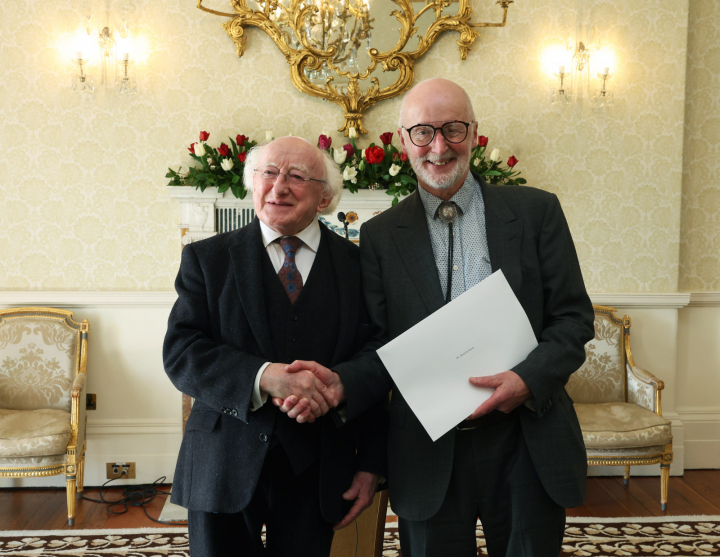 The President of Ireland, Michael D. Higgins, received Mr Dónal de Róiste and members of his family and friends on a courtesy call at Áras an Uachtaráin.
President Higgins invited Mr de Róiste to Áras an Uachtaráin in recognition of the apology which Mr de Róiste received from the Minister for Defence on 7 December 2022, the distress which he has suffered over five decades, and his long pursuit to clear his good name.
In his apology, the Minister for Defence apologised to Mr Dónal de Róiste on behalf of the Government for the distress and upset suffered over the years by Mr de Róiste, who was retired by the Defence Forces in 1969. The apology followed a review carried out by Mr Niall Beirne SC, who concluded that Mr de Róiste's dismissal was not in accordance with the law.
The Minister's statement acknowledged the long-standing interest that President Higgins has taken in Mr de Róiste's case.
At the event, President Higgins read and presented to Mr de Róiste a letter in which the President welcomed the findings of Mr Beirne's review and the apology which Mr de Róiste has now received.
The President referred to the tremendous personal toll which the original decision had caused to Mr de Róiste and his family, and stated that it was his hope that the findings of the review, its acceptance by Government, and the subsequent apology by Government will bring some peace to Mr de Róiste, to his family and to his supporters.
The President's letter in full reads as follows:
"Dear Dónal

As President of Ireland, and Supreme Commander of the Defence Forces, I was pleased when in 2020 the Government authorised a review into your case and the circumstances of your forced retirement in 1969. I am also aware that this followed a resolution from Seanad Éireann in 2010 calling for such a review.

For some time and particularly since my election as President of Ireland, I have sought to bring light to your concerns surrounding your compulsory retirement "in the interest of the service" under signature of the then President, a decision without an appeal process.

I have been seeking answers to the many questions of fair procedure that have arisen following the use of an instrument under Section 47 (2) of the Defence Act, 1954, by my predecessor President De Valera, on the advice of the then Government. All of this has taken a very long time, and for you most of all, I am aware that it has been one of painful and ever more tedious recollection of a wrong suffered decades ago but with enduring consequences.

I am aware of, and welcome, the findings of the review by Mr. Niall Beirne SC that the decision on your compulsory retirement in 1969 was "fundamentally flawed" and "not in accordance with law". The section referred to in the 1954 Act for your compulsory retirement was amended in 1988.

I welcome the apology from the Minister for Defence on behalf of Government which followed the publication of the review (7 December 2022) for the distress and upset you have suffered over the years.

The review of Mr. Niall Beirne SC concluded that in deciding to advise President DeValera on your retirement without affording you fair procedure that this process was "seriously and fatally compromised".

Indeed, in referencing the provision to the right to one's good name in Article 40.3.2 of Bunreacht na hÉireann, the reviewer concludes that "it is difficult to envisage how greater damage could be caused to the good name of an officer of the Defence Forces than his compulsory retirement because no trust or confidence could be reposed in him and that to retain him in the Army would hazard military security and the safety of the State."

It bears repeating that the conclusion of the review into your retirement was that it was not "in accordance with the law".

I am aware of the tremendous personal toll that this decision has had on your life, of the hurt that it has caused to you and to your family. I believe your motivation of joining the Defence Forces as a young man was based on a love of your country and a commitment to a life of service. It is my sincere hope that the findings of this review, its acceptance by Government, and subsequent apology, will bring some peace to you personally, and to your family and supporters.

May I take the opportunity to commend the unwavering commitment of your family and supporters, including your late mother Christina, and their dedication to restoring your good name.

In recognition of the failings that surround the circumstances of your retirement, I welcome the opportunity to host you and your family at the home of the President, Áras an Uachtaráin, associated as Áras an Uachtaráin was in the great wrong you suffered, but where today you are welcomed, and that wrong and the long process of your vindications is acknowledged and concluded at a meeting that I hope gives you some healing.

Beir gach beannacht don todhchaí,
Yours sincerely
Michael D. Higgins
Uachtarán na hÉireann
President of Ireland"