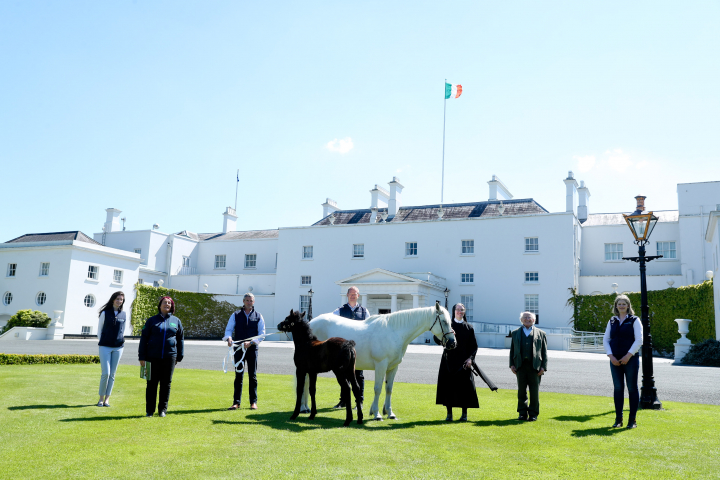 President Higgins welcomed staff from Kylemore Abbey to Áras an Uachtaráin, as they delivered two Connemara ponies for the beginning of their 4-month stay in the paddocks at Áras an Uachtaráin.
The Connemara pony "Gray Lass" and her foal - named "Aimhirgin" by President Higgins after Aimhirgin Gluingheal mac Mileadh, the Milesian warrior-poet of Irish mythology who is said to have defeated the Tuatha Dé Danann - are set to graze in the grounds of the Áras as part of a programme of work to enhance the biodiversity of the 130-acre site. The arrangement arises from the recommendations in a recent biodiversity audit, commissioned by President Higgins, to develop a conservation plan for the grounds of Áras an Uachtaráin.
The Biodiversity Audit, undertaken by scientists from Trinity College Dublin, made a series of recommendations about the future sustainable management of the Áras grounds. One of its key recommendations was that a sustainable grazing regime be put in place, to allow for an improvement in the biodiversity of the meadows within the Áras grounds. The aim is to promote a greater diversity of wildflowers and plants, along with increases in fauna dependent on such a diversity of flora.
80% of the 130-acre grounds around the Áras is classified as 'natural habitat', with 14 distinct habitats. The audit found 297 different species of plant, 247 species of invertebrates, 188 types of fungus, 51 bird species and 18 different species of mammal, from foxes and badgers to bats and pygmy shrews.
The audit also concluded that, although the current management of the land is already sensitive to biodiversity needs, there would be benefits to improving the quality of the semi-natural grasslands, and creating more wetlands habitats. The low-intensity grazing of horses and cattle reduces vegetation grows in the grasslands, reduces the return of nutrients to the soil, and helps create the circumstances for broadleaf herbs to germinate.
You can read the report, and some of its background, here.
The partnership also builds on an earlier arrangement, dating back to President Childers, who presented a herd of pure-bred Connemara ponies to the State, in 1974. The current herd of ponies in the Connemara National Park are direct descendants of those presented by President Childers. At the time, a number of Connemara ponies were grazing in the grounds of Áras an Uachtaráin.