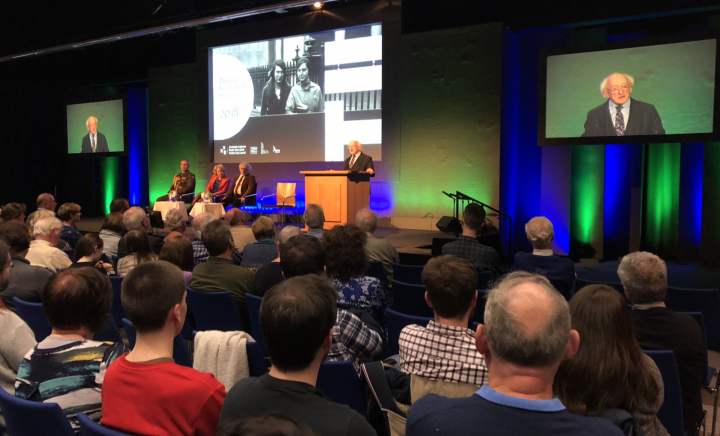 President Michael D. Higgins delivered a special address to close the Dublin Festival of History.
The Festival this year has a strong focus on women's suffrage and on the Decade of Commemorations. President Higgins has made significant contributions to the public debate on these issues, drawing attention to the importance of embracing the complexities of our past.
President Higgins has spoken in the past about how history is the 'inheritance of all our people' and he has stressed the importance of making history accessible to as many people as possible.
Click on the 'Speeches' tab to read the text of the President's address, or the 'Audio' tab to listen to a recording of the speech.
In 2018, Ireland celebrated 100 years of (some) women having the right to vote. President Higgins marked the centenary on a number of occasions, including by hosting a reception for sports women (on International Women's Day), a reception for women entrepreneurs, hosting a Garden Party in honour of the suffrage movement (on 27 June), and unveiling a commemorative plaque in honour of women's rights activist Hanna Sheehy Skeffington (in June). In February this year, the President also visited the Suffragette Memorial in London's Christchurch Gardens.