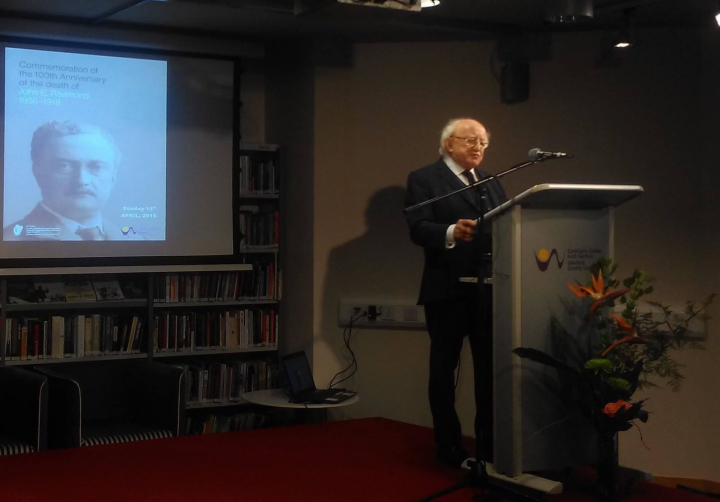 To mark the centenary of the death of John Redmond, President Michael D. Higgins attended the "Redmond 100 seminar" organised by Wexford Borough District.
After the seminar, the President attended a ceremony at St John's Cemetery, at which President Higgins will lay a wreath at the grave of John Redmond.
Click on the links below to read, or listen to, the President's speech.
---
The President has spoken on many occasion about the contribution of the parliamentary tradition not only to the struggle for independence but to Irish life in the nineteenth and twentieth century more broadly:
* Speaking at a reception to mark the 44th plenary conference of the British-Irish Parliamentary Assembly on 14 May 2012, he reflected on the political climate that prevailed in Britain and Ireland a century before.
* At the Houses of Parliament in Westminster in 2014, the President paid tribute to the achievements of Irish parliamentarians who attended the British Parliament between the Act of Union and the 1918 General Election, and their role in developing both Irish and British democracy.
* The President has spoken a number of times, inlcuding in his 2015 Daniel O'Connell Memorial Lecture, of the influence of Daniel O'Connell and the need to emulate O'Connell's exemplary dedication to human rights.
* Addressing the Parliament of Western Australia in October 2017, the President spoke of the influence of John Hubert Plunkett, who played an influential role in the government of New South Wales.