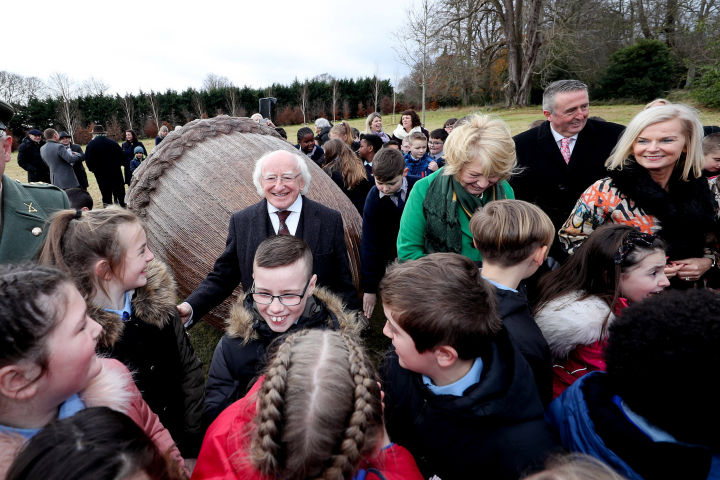 On Thursday 14 December 2017 a new public art sculpture was unveiled by President Michael D. Higgins, in a ceremony at Áras an Uachtaráin.
'Dearcan na nDaoine - the People's Acorn' was created by Irish artist Rachel Joynt and took its place in the grounds of Áras an Uachtaráin, as part of the State 1916 centenary commemorations.
The ceremony was attended by 170 children from 7 schools, who contributed their thoughts and wishes for Ireland's future, as well as older people who wrote their thoughts and memories for inclusion in the time capsule. Also in attendance were a number of relatives from people who died in the Easter Rising, as well as artists and members of the jury who selected the winning design, following the call, in late 2015, by President Michael D. Higgins and Sabina Higgins for a suitable 1916 commemorative piece.
The bronze cast acorn is 2.8 metres long and 1.7 metres high, with a textured surface containing the imprint life-size pencils, and is visible from the South portico of Áras an Uachtaráin as well as from public walkways in the Phoenix Park.
Click on the Photos, Video, Audio or Speech tabs for more information.