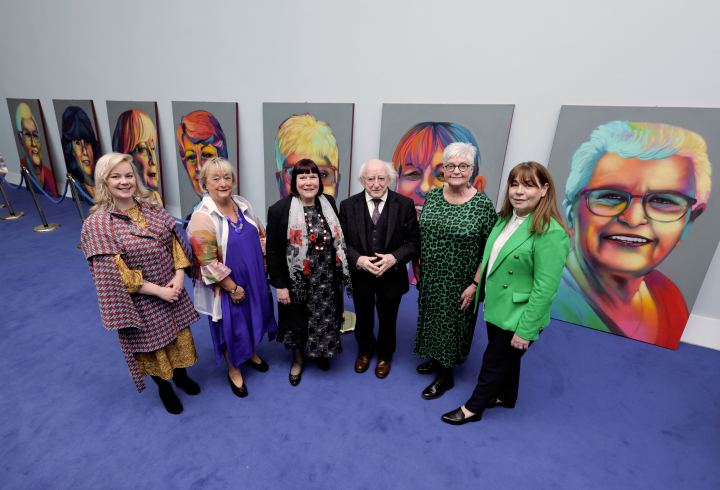 The President of Ireland, Michael D. Higgins, hosted a special display of the 'Peace Heroines' exhibition, curated by HerStory, at Áras an Uachtaráin.
This year marks the 25th anniversary of the Good Friday (Belfast) Agreement, which was signed on 10 April 1998. In recognition of this anniversary, the President decided to host an event in honour of the significant and essential contribution that women have made to the critically important task of peacebuilding on the island of Ireland.
The exhibition, which consists of a series of information panels and portraits commissioned and curated by HerStory, celebrates the role of women in the building of peace in Northern Ireland from grassroots up to government levels.
In so doing, it captures a diversity of voices and perspectives, featuring 30 women's stories, including Bridget Bond, Monica Patterson, Ruth Agnew, Bernadette Devlin McAliskey, Inez McCormack and Dr Mo Mowlam amongst others.
Central to the exhibition are nine large portraits by the visual artist FRIZ, featuring Pat Hume, Bronagh Hinds, Eileen Weir, Susan McCrory, Saidie Patterson, Monica McWilliams, Pearl Sagar, Anne Carr and Baroness May Blood.
A number of those featured in the portraits were in attendance at the event, including Bronagh Hinds, Susan McCrory, Monica McWilliams and Anne Carr. Also in attendance were Áine Fryers, Kate Fearon, Joanne Fitzpatrick and Liz O'Donnell, each of whom are among the 30 women's stories featured in the exhibition.
Attendees also included Tim Atwood on behalf of the John and Pat Hume Foundation, the artist FRIZ, and Melanie Lynch and Katelyn Hanna of HerStory.
The event was addressed by President Higgins and Professor Monica McWilliams, co-founder of the Northern Ireland Women's Coalition and one of just two women at the table of the All-Party talks discussing the future of Northern Ireland.
In his address, President Higgins said:
"In our hosting of the 'Peace Heroines' exhibition, curated by HerStory, here at Áras an Uachtaráin, we acknowledge and pay tribute to what was an important and emancipatory contribution.

I am delighted to see the role of co-operation and the power of partnerships explored in this exhibition, partnerships such as Peace People, Women Together, Peace Players, Derry Peace Women, the special dynamic that has been forged between Shankill and Falls Women's Centres through the leadership of Eileen Weir and Susan McCrory, and of course the Northern Ireland Women's Coalition.

The Women's Coalition, in its rejection of traditional partisan sources of division within what was male-dominated politics, played a vital role in the delivery of an alternative context that could carry the Good Friday Agreement. Its founders, drawn from both of the main opposing traditions, sought to work together, transcending the old tribal divides, and focussing instead on creating a common, agreed, shared future, united by the cause of bringing women's concerns to the negotiating table, and ensuring an inclusive peace accord.

Groups such as the Shankill Women's Centre and the Falls Women Centre – formed as locally based groups to provide education for women, but who have since gone on to flourish and develop into their current roles as key providers for training, health awareness, childcare and young women's activities in the Greater Shankill and West Belfast areas respectively – are the peaceful future, playing an important, indeed vital role, in the promotion and achievement of a sustainable, inclusive warm future in Northern Ireland for all, one that is demonstrating the critical importance of cross-community engagement and the benefits of active citizenship and democratic participation which will serve as a means to forging an agreed, peaceful, perhaps even emancipatory, future.

We have an obligation to work towards the goal of moving peace from paper to experience, to the texture of lives lived that carry the remembered experience of terrible loss, cruelty, humiliation and indifference. This can only be done with the inclusion of women at the core of every step of this process, their voices, their rich experiences and their expertise.

Yes, we have achieved much on this island by working together for a peaceful resolution, to face up to historical wrongs, to heal the painful wounds of what we refer to as the 'Troubles', but there remains so much to be done to achieve an island at lasting peace with an ability to recall ethically, transact that history, and to live harmoniously together.

I know that the women of Ireland, North and South, will continue to rise to this challenge, as they have done on so many occasions before, as we carve out a future of sustained, inclusive peace and reconciliation on our shared island. Let us celebrate then the great contribution that women have made, to building and sustaining peace, to inclusion, equality and sustainable society and economy, and let us commit to working together to build on this progress, helping to end all forms of discrimination and inequality on an island at peace."