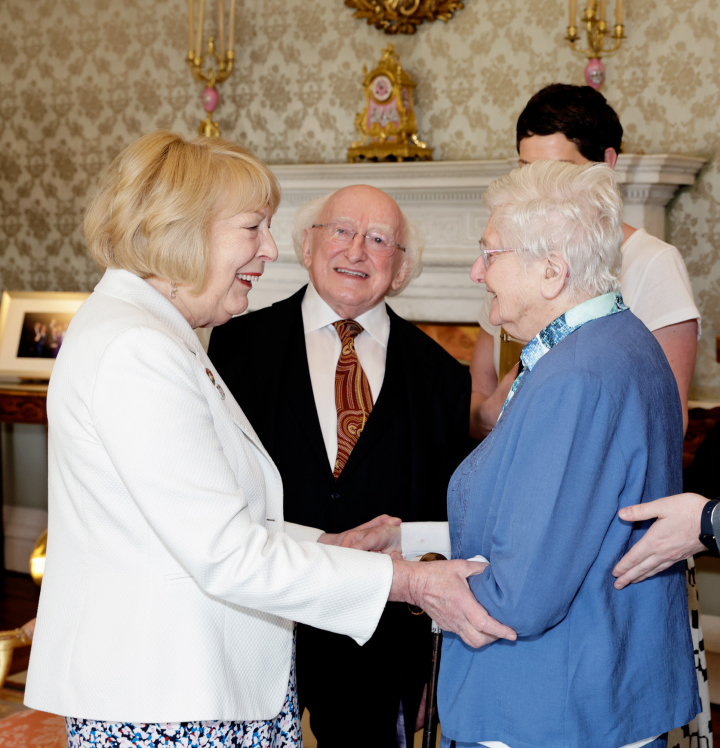 President Michael D. Higgins hosted an afternoon tea event at Áras an Uachtaráin. The event was organised to celebrate the important role that a variety of people have and can play in different communities, and the efforts which we can make collectively to build a better, shared future, one rooted in the spirit of selfless citizenship.
Those in attendance included the director of the seminal films 'Mise Éire' and 'Saoirse?', George Morrison, who was made a Saoi by his colleagues in Aosdána in 2017, in recognition of the pioneering contribution which he has made to the Irish film community. Mr Morrison reached the age of 100 last November.
Also present was Ireland's oldest resident, Máirín Hughes, who turned 109 on 22 May and has given a number of inspiring interviews in recent weeks.
Other guests included two families who suffered the loss of loved ones during the Troubles. Hugh O'Hare, who attended today's event, lost his late wife Margaret O'Hare on 'Bloody Friday', 21 July 1972, when she was one of nine people killed when the IRA exploded 19 bombs across Belfast in an 80 minute period.
The event was also attended by three of the children of Barney O'Dowd, who was shot and seriously wounded by loyalist paramilitaries during an attack on his farmhouse in Ballydougan, Co Down, on 4 January 1976. Barney's eldest brother Joe and two of his sons, Barry and Declan, were killed in the attack. While Barney, who turned 100 on 3 May, was unable to attend today, he was represented by his sons Noel and Loughlin O'Dowd and his daughter Eleanor O'Sullivan.
The event included a performance by award-winning singer Simon Morgan.
Speaking at the event, President Higgins said:
"Creating societies that are ethical, just, inclusive and peaceful, that allow for participation and the universal enjoyment of human rights, is a task for all of our citizens. Such societies can only emerge from communities that are ethical – communities working together, in solidarity, recognising the needs of all their members and, in particular, those who are vulnerable and marginalised.

Each of us is vulnerable at some time in our lives, finding ourselves in need of the kindness, support and solidarity of our friends and neighbours. Is ar scáth a chéile a mhairimid.

It is critical that we continue to work to build and maintain a strong sense of community which has been such an essential part of our Irishness and which continues to offer so much potential for the flourishing and fulfilment of our citizens.

An energetic and vibrant citizenship must make room for all the people within our society, including those on the margins, the poor, the excluded and those seeking refuge. That is why we must continue to create a society where everyone receives the opportunity to participate at every level and in every way."