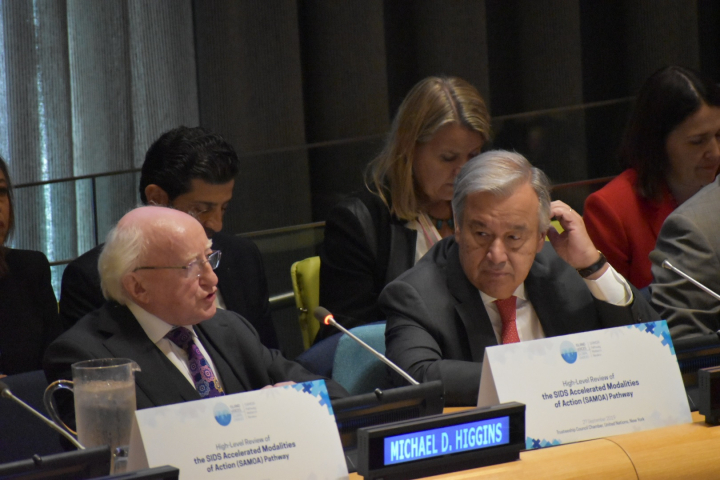 President Higgins attended the opening segment of the Small Island Developing States (SIDS) Summit, together with the UN Secretary-General (UNSG), António Guterres, the President of the General Assembly (PGA) and senior representatives of UNMember States.
The President addressed the opening segment of the summit, which serves as a high level review of the progress made in addressing the priorities of SIDS through the implementation of "the SAMOA Pathway".
Over the past few months Ireland and Fiji have been central, as co-facilitators, to the negotiation of the Political Declaration to result from the summit.
The Declaration seeks to retain the separate identity of the SAMOA Pathway to the Sustainable Development Goals and ensure that SIDS-specific concerns remain on the United Nations' development agenda. The special case for SIDS is based on their very particular vulnerability and the combined challenges they face from their geographical remoteness, the small scale of their economies, high costs and crucially the devastating impact of climate change, inter alia; extreme weather events, slow onset events, and the increasing frequency, scale and intensity of disasters.
Ireland's Strategy for partnership with Small Island Developing States builds on and strengthens existing diplomacy and international cooperation with our island brethren. The strategy was launched by the Tánaiste at the Our Ocean Wealth Summit in Ireland in June 2019, and was the subject of discussions at a meeting for the SIDS representatives, hosted by President Higgins at Áras an Uachtaráin.