Centenarian Bounty
What is the Centenarian Bounty?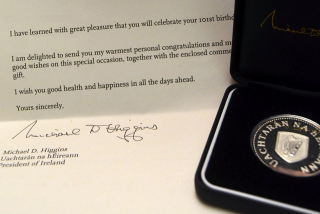 The tradition by which people who have reached their 100th birthday receive a gift from the State of €2,540 and a special message from the President of Ireland, wishing them a happy birthday and congratulating them for their longevity, was begun in 1940 by President Douglas Hyde.
In 2006, the Government decided to extend the eligibility criteria for the scheme so that all Irish citizens born on the island of Ireland and all foreign nationals resident in Ireland on their 100th birthday are eligible to apply.
Since 1 January 2000, the President of Ireland has also marked the birthday of people over the age of 100 years. On his or her 101st and every subsequent birthday, the person receives a special commemorative coin in a presentation box, along with a congratulatory letter signed by the President. A new coin is designed for each year.
Do you wish to speak to someone about the Centenarian Bounty?
Please contact [email protected]