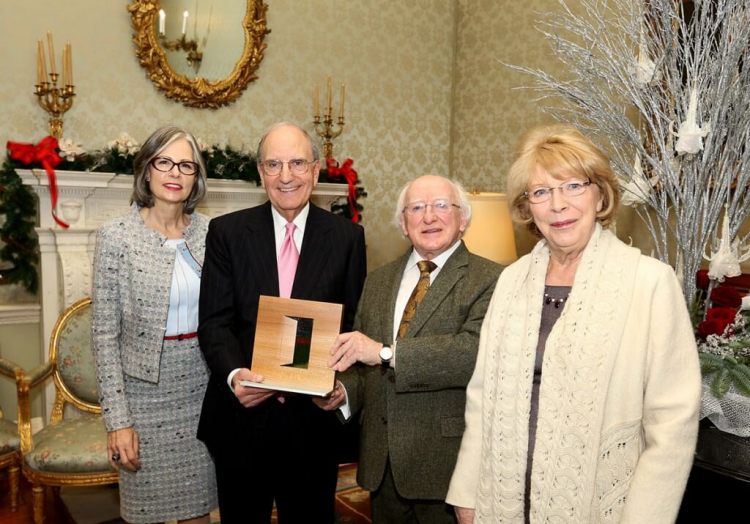 Presidential Award for Distinguished Service
Foilsithe: hAo 13th Nol, 2013 | 14:27
President Higgins presented Senator George Mitchell with a Presidential Distinguished Service Award for the Irish Abroad on Thursday 12th December, 2013. Senator Mitchell is one of ten recipients of the award this year. See the full list of recipients below. The main awards' ceremony took place in Áras an Uachtaráin on 26th November 2013.
Remarks by President Higgins on the presentation of a Presidential Award for
Distinguished Service to Senator George Mitchell
Thursday 12 December, 2013
I am delighted to welcome Senator Mitchell, his wife Heather, friends and colleagues to Áras an Uachtaráin.
This is the second year of operation of the Presidential Awards for Distinguished Service for the Irish Abroad, of which Senator Mitchell is a most worthy recipient.
One of the eligibility criteria for the Award is that the recipient must have rendered sustained service to Ireland for at least five years. In Senator Mitchell's case we do not need a second's reflection on that score.
When President Clinton asked the Senator to become economic Envoy to Northern Ireland in 1995, he might have reasonably assumed that it would be a commitment with a limited shelf-life.
Yet, 18 years later, the Senator remains closely associated with Ireland and the people of both parts of the island remain deeply grateful for the crucial role he has played in securing peace and political progress.
The succeeding years to President Clinton's invitation to Senator Mitchell and his generous response to it have seen a progressive deepening of the Senator's engagement with Ireland through his authorship of the Mitchell Report on how the very difficult issues of arms decommissioning might be handled, and the articulation of the "Mitchell Principles"; his chairmanship of the multi-party talks that led to the Good Friday Agreement; and a decade as Chancellor of Queens University Belfast. The list of generous and committed engagement with this island and its people is long.
The Senator's chairmanship of the multi-party talks covered a two year period of immense challenge and required the greatest sensitivity. During this time Senator Mitchell was called upon to exercise and demonstrate outstanding gifts of patience, wisdom, resilience and dignity.
I particularly recall the dignity that the Senator displayed time and time again at press conferences when there was little progress to report but his eloquence and gravitas still managed to convey a sense of forward momentum. After one such challenging press conference, the Irish Times journalist made this simple assessment of the Senator's stewardship; it was he said – "a class act".
The Senator's commitment to the cause of peace in Northern Ireland came at a personal price. He and his wife Heather made the considerable sacrifice of being separated from each other during the early months of the life of their son Andrew – a sacrifice which is movingly reflected in Colm McCann's novel "Transatlantic".
On behalf of the people of Ireland, may I thank you both for that personal commitment and sacrifice.
In the period following the Good Friday Agreement, Senator Mitchell told many people of his dream for the future. It involved bringing his teenage son Andrew to the Northern Ireland Assembly in Stormont where he might witness the conduct of normal politics, where there would be no talk of violence (because violence was gone), and no talk of peace (because peace prevailed).
In 2012, you and Andrew realised that dream and witnessed at first hand the transformation that has occurred in Northern Ireland – a transformation to which you made an immense contribution and one that is cherished by the people of this island, of all traditions and faiths.
I am delighted that you are accompanied by friends and colleagues from the US Embassy. I am particularly pleased that David Cooney is with us. I know David worked very closely with you during the course of the multi-party talks.
I know that your deep sense of public service was not just limited to your period in office in the US or your commitment to Ireland. It also included your role as US Special Envoy for the Middle East and your engagement on an issue that is nearly as challenging – the governance of baseball.
On behalf of the people of Ireland, it gives me great pleasure to present to you the Presidential Award for Distinguished Service for the Irish Abroad.
Recipients of the 2013 Presidential Distinguished Service Award for the Irish Abroad
Arts, Culture and Sport
Mick Moloney
Professor Mick Moloney is a famed folklorist, musician and scholar. He holds a Ph. D. in folklore and folklife from the University of Pennsylvania and currently teaches at New York University in the Irish Studies Program. He has taught ethnomusicology, folklore and Irish Studies at the University of Pennsylvania and at the Universities of Georgetown and Villanova. Professor Moloney has recorded over forty albums of traditional music and served as artistic director for several major arts tours.
Business and Education
Craig Barrett
Dr. Craig Barrett is a leading advocate for improving education standards. Over the course of thirty five years, Dr. Barrett held many positions in Intel including Chief Operating Officer, President, CEO and retiring as Chairman of the Board in May 2009. As CEO/Chairman of Intel and more recently as Chairman of the Irish Technology Leadership Group, Dr. Barrett has been a key supporter and guide to Ireland in our efforts to attract and retain high-tech foreign direct investment in Ireland.
John Martin
John Martin was former Director for Employment Labour and Social Affairs in the OECD. His most significant contribution was to bring social policy to the centre of economic analysis at the OECD. His ground breaking research and policy prescriptions in the area of social inclusion, especially in the area of employment, equality including gender equality have significantly influenced governments within the OECD and beyond.
Charitable Works
Anne Merriman
Dr. Anne Merriman trained as a doctor in UCD. She is a founder member of the Hospice Care Association of Singapore and was the first Medical Director of the Nairobi Hospice. She also founded Hospice Africa and has led Hospice Africa's International initiatives in Nigeria, Cameroon, Sierra Leone, Malawi, Ethiopia, Zambia, Sudan and Rwanda. Her concern is the relief of suffering and the provision of holistic care to millions of patients and families in Africa suffering from cancer and/or AIDS.
S.M. Cyril Mooney
Sr. Cyril Mooney is a Loreto Sister who, since her profession in 1956, has worked tirelessly in India in the areas of social justice and education. Sr. Cyril has been serving the poor, destitute and socially excluded children of Kolkata, West Bengal for over 50 years. Amongst her many achievements is the Rainbow Programme which provides education and rehabilitation for formerly street-dwelling children. She is the only Irish citizen to have been awarded India's highest award – The Padma Shri Award.
Irish Community Support
Seamus McGarry
Seamus McGarry has for the last 40 years been one of the most prominent and well respected members of the Irish Community in Britain. He was involved in the establishment of the Federation of Irish Societies, was its Chairman for a decade, and is a member of the Emigrant Advisory Committee which advises the Government on issues of concern to the Irish Community in Britain.
Mary Tilki
Dr. Mary Tilki has been keen to address the inequalities relating to the health of the Irish Community in the UK and has written many articles highlighting Irish need. She continues to lobby policy makers to address the inequalities relating to health, not only with the Irish and Traveller community but for other disadvantaged ethnic groups. She is the current Chairperson of the Federation of Irish Societies.
Rodney Walshe
Rodney Walshe has served as Honorary Consul General in New Zealand for 37 years. He is highly regarded, receiving the New Zealand Order of Merit, and enjoys excellent relations with senior political, business and cultural figures which he has leveraged to great effect for Ireland over the years. He is a founding trustee of Irish Fund of New Zealand and is an active member of the Global Irish Network.
Peace, Reconciliation and Development
George Mitchell
George Mitchell is a politician, lawyer and businessman and has been a visionary of peace around the world, most notably in Northern Ireland. He was appointed United States Peace Envoy for Northern Ireland by President Clinton. As Chair of the all-party peace negotiations, he led the parties to the Good Friday Agreement in 1998. He was Chancellor of Queens University Belfast from 1999 – 2009. He was also named US Special Envoy for Middle East Peace by President Obama in 2009.
Dan Rooney
Dan Rooney served as Ambassador to Ireland from 2009 – 2012 and during that time played a pivotal role in developing relations between Ireland and the US. In 1976, together with Tony O'Reilly, he set up the American Ireland Fund with a trinity of goals – peace, culture and charity. Mr. Rooney is Chairman of the Pittsburgh Steelers and this club has a reputation for providing equal opportunity for all communities.